First SHG of Ludhiana ties up with local textile sector
Women of Noorpur bet are profoundly ecstatic to begin on their entrepreneurial journey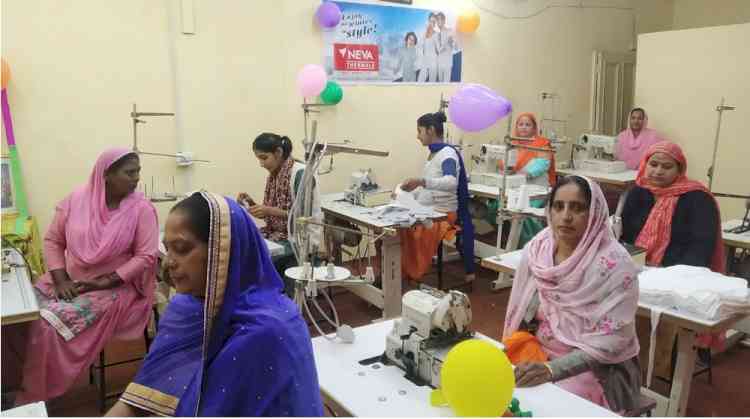 Ludhiana: The women of Noorpur Bet, a small hamlet situated by the bank of Satluj amidst trails of paddy field, are set to begin on a newfound entrepreneurial journey with Neva Garments, the textiles giant of Ludhiana. These women are part of a self-help group named Baba Jhandewalan comprising of 15 members from Noorpur Bet with their youngest member being 20 years old.

The business centre was inaugurated today by the ADC(D) Ludhiana, Sh. Sandeep Kumar, IAS and Mrs Neeti Jain, Director, Neva Garments in presence of Village Panchayat and other luminaries at Noorpur Bet. This initiative is particularly close to the heart of Sh. Sandeep Kumar, who aspires to take quantum leaps in the livelihood programs associated with rural Ludhiana.

"There cannot be a better time to invest into the livelihood programs in rural India especially because rural expenditure is at an all-time low due to Covid-19, people need money in their pockets to spend and to add to the larger economy", he said.

The district administration of Ludhiana is appreciative of the cooperation received from Neva Garments Ltd, who will get their products manufactured by this SHG while also providing them with necessary handholding for one month and marketing support throughout the process of production. This effort comes at a time when the city has seen a mass exodus of workers due to Covid-19. This effort marks the first step towards a symbiotic relationship between the SHGs, district administration and local industries of Ludhiana.

Women of Noorpur bet are profoundly ecstatic to begin on their entrepreneurial journey. One of the members remarked, "It is time we stop saying we are not ready to become an entrepreneur, we will learn on the go as we do things and we are not scared to fail and learn". This project is conceptualised and put into shape with the efforts of a young and energetic district development fellow, Aishwarya Dixit who has been appointed by the State Government in Ludhiana.