NSS special camp day 3 began with meditation
Event held at PU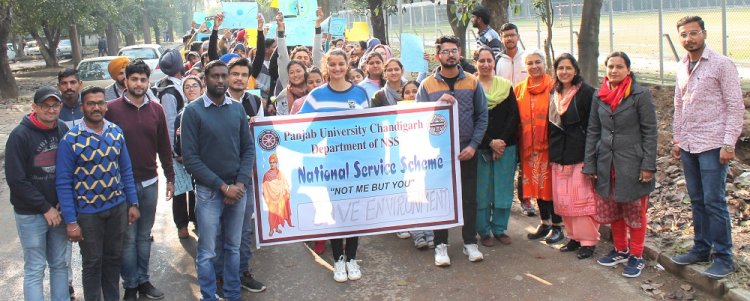 Chandigarh: Panjab University's NSS Special Camp Day 3 began with meditation. The meditation session was conducted by Ms.Baljeet, Research Scholar, Department of Gandhian and Peace Studies, Panjab University. Meditation is a process of lightening up, of trusting the basic goodness of what we have and who we are, and of realizing that any wisdom that exists, exists in what we already have. It is a subtle practice. Beginning the day with this provides a calm environment to the volunteers. Volunteers were told that self-discipline is the key to life and meditation helps in achieving it. 

The keynote speaker for today's session was Dr. Ikreet Singh Bal from Institute of Dental Sciences, Panjab University who talked about "Oral hygiene and Electronic Nicotine Delivery Systems (ENDS)". These devices include personal vaporizers, vape pens, e-cigars, e-hookah, vaping devices etc. These products that produce an aerosolized mixture containing flavoured liquids and nicotine that is inhaled by the user. E-cigarettes can resemble traditional tobacco products like cigarettes, cigars, pipes, or common gadgets like flashlights, flashdrives, or pens. Electronic cigarettes are the most common prototype, are devices that donot burn or use tobacco leaves but instead vaporize a solution the user then inhales. ENDS cause many respiratory problems, cardiovascular and neurological disorders. These devices are banned in 30 countries. In case of both smoking and using ENDS device, health hazards are the same.  Delving on Oral health and hygiene, he shared with volunteers about the importance of teeth, oral hygiene, brushing habits and flossing. He also discussed about good and bad brushing techniques. He laid emphasis on the importance of mouth in human body. The session was concluded followed by a question answer round with the resource person.
The post-lunch session was followed by awareness rally cum cleanliness drive by NSS volunteers on the theme "Save Environment". The rally was flagged off by PU NSS Programme Coordinator, Dr. Navdeep Sharma and her team of programme officers including Dr. Purva Mishra, Dr.Manjushri Sharma, Dr. Gurmeet Kaur, Dr. Navneet Kaur, Dr. Sucha Singh and Dr. Upneet Kaur Mangat.