Anirudh Tewari visits Punjab Remote Sensing Center today
He also interacted with scientists of the center to discuss various projects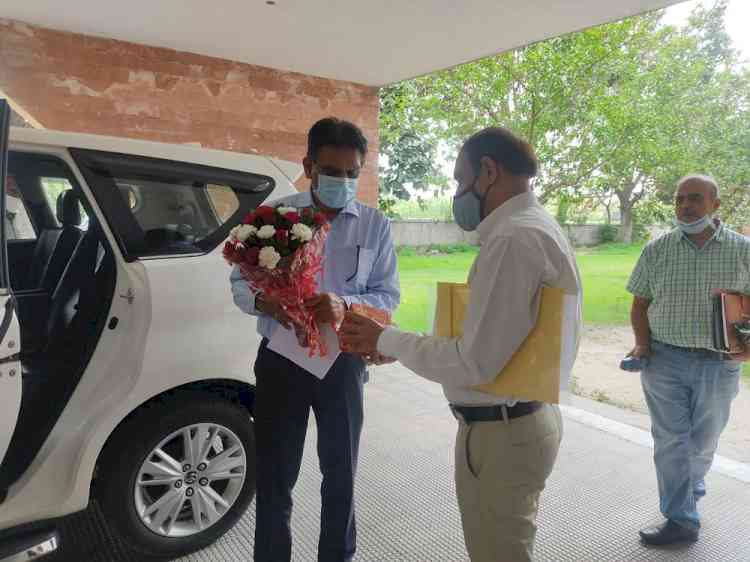 Ludhiana: Anirudh Tewari, IAS, Additional Chief Secretary (Development) who is currently holding the charge of Vice Chancellor, Punjab Agricultural University (PAU) and also the Chairman of Punjab Remote Sensing Center today visited the centre, here. 
Dr. B. Pateriya, Director – PRSC welcomed him and explained various activities of the center and government developmental projects using Satellite remote sensing and GIS. 
Tewari also interacted with scientists of the center to discuss various projects of Government of Punjab, particularly development of i-Khet Machine mobile app and desktop dashboard development for farmers and stakeholders. He has shown keen interest in works of satellite based mapping and monitoring of various corps during current Kharif Season like Direct Sedded Rice (DSR), Basmati, and Paddy and other crops in the state and its sowing and crop growth progress through muti remote sensing satellite systems. In addition he also took note of space and Geospatial based projects of various other departments like Education, Revneue, Health, Wetland mapping and other citzen centric actitivies for developmental planning, better natural resource mangement and monitoring of infrastructure through Geospatial & ICT technologies in the state. 
Anirudh Tewari expressed his satisfaction on the work carried out by the center. He explicitly mention on the growth and further development of the center in the larger interest of the state for various developmental activites and stressed the need to upgrade its facilties so that full technical strength can be utilized for various user departments and agencies of the Punjab government and ultiamtely very useful for improving the citizen level services in near real time manner through space, geospatial, drone and ICT technologies.