Webinar to commemorate national sports day
The webinar was organised by Department of Physical Education of KMV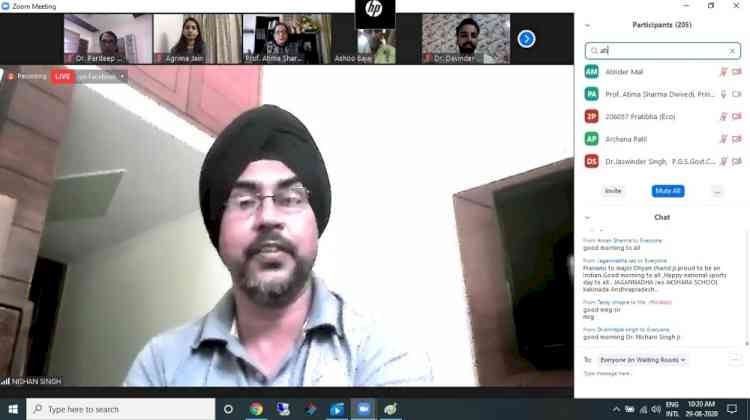 Jalandhar: Kanya Maha Vidyalaya organised a National Webinar in order to commemorate the National Sports Day. The webinar was organised by the Department of Physical Education of KMV. Dr Nishan Singh Deol, Professor & Head, Department of Physical Education, Punjabi University, Patiala & Dr Baljinder Singh Bal, Assistant Professor, Department of Physical Education, Guru Nanak Dev University, Amritsar were the speakers for the webinar. More than 500 participants participated in this webinar with full zeal & enthusiasm. 

In her welcome address, Principal Prof. Dr. Atima Sharma Dwivedi gave her congratulations to the whole nation for the National Sports Day. She averred that sports is not related to the sportspersons only, but it should be the part of life of every citizen. She averred that KMV has a very rich history of sports as it has always been the forerunner in all the sports activities. She further maintained that KMV has won the Champion position for  the General Sports Trophy of Guru Nanak Dev University, Amritsar for thirteen times. She stated that the sports of science emphasises on the holistic development of a person in all her aspects such as physical, mental & psychological. Dr Nishan Singh Deol enlightened the participants through his address on the Science of Soul. He stated that we in India are always in a dilemma as whether the education or the physical health of a child is important. He emphasised on the fact that in any developed or developing country, more emphasis should be given on the holistic health of the children wherein their personality as a whole should be cultivated in order to make them a healthy and strong citizens of their nation. Dr Baljinder Singh Bal gave his talk on the topic of Dynamism of University Sports: Reforming Issues & Challenges. During his talk, Dr Bal highlighted various issues of physical health and well being in this unprecedented scenario of COVID-19. He emphasised on the fact that there is a great need of institutional sports policy in order to provide good sports education to the students. There should be a sports governance in the institutions in which a large focus should be given on talent detection, talent identification, talent confirmation, talent orientation, talent selection & talent retention in order to enhance the efficiency of sports education in our country. 

Dr Bal appreciated the efforts of KMV in producing a very conducive environment for Research & Development in the field of sports where the students & faculty members are provided with various research projects by the college in order to explore the different arena of sports. After the session, question and answer session was also conducted in which many inquisitive participants asked their queries from the resource persons. Principal Prof Dr Atima Sharma Dwivedi lauded the efforts of Mrs Ashoo Bajaj, Head, Department of Physical Education & Dr Davinder for successfully organising the webinar. Ms Agrima Jain was the moderator for the webinar.