Unique plantation drive `Trees of Joy', continues at AIPL Dreamcity Ludhiana
Mini-forest plantation starts by holding sapling plantation activity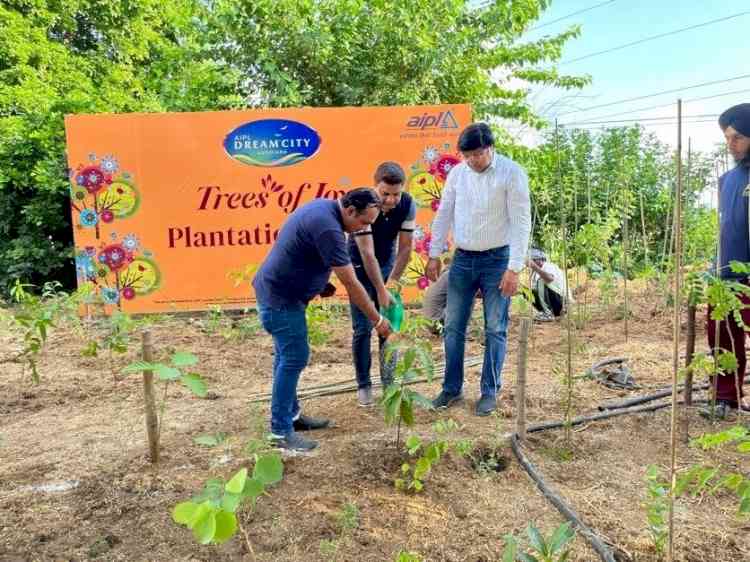 A mini-forest plantation drive commenced at AIPL DreamCity Ludhiana under the campaign 'Trees of Joy.' Hemant Gupta , President, Sales (Punjab), AHUIL (centre) also participated in the planting of saplings.


Ludhiana, August 20, 2022: Fully aligned with the Sustainable Development Goals (SDGs'), AIPL Housing & Urban Infrastructure Limited (AHUIL), a pioneer in real estate development, continues a unique plantation drive 'Trees of Joy', under which micro forest of 550 saplings of 35 Native Species of Punjab will be planted as per Miyawaki (Japanese method) at AHUIL's township AIPL DreamCity Ludhiana, on Sidhwan canal road. Under this initiative the plantation of a micro or mini-forest was started by holding a sapling plantation activity at AIPL DreamCity Ludhiana.
This plantation is being carried out by AHUIL in collaboration with Eco-Sikh an 80G approved charitable society that works to mitigate the threats of climate change and deterioration of the natural environment. 
"We are committed to increase the green cover in AIPL Dreamcity Ludhiana and other parts of Ludhiana as well. These continuous plantation drives are aimed to highlight the fact that environmental degradation is a serious challenge which can only be addressed collectively. Like AIPL DreamCity Ludhiana, which is a sustainable green township, other urban infrastructure developers must also come forward and get aggressive in promoting a vibrant and green ecosystem," said Hemant Gupta, President Sales Punjab AHUIL.
The Miyawaki methodology creates dense forests andis based on the potential natural vegetation of the area. The idea to plant Mini Forests is that forests are nature's carbon sink. The trees in dense forests sequester carbon from the surroundings and store it in their bark, trunk, leaves, stems, roots etc. A self-sustainable dense native forest is the most effective way to control rising carbon footprint.
It is worth mentioning that AIPL DreamCity Ludhiana beautifully incorporates organic farming, natural waste composting facility, reuse of treated wastewater, recycling of garbage, bee farms, butterfly gardens, fruit orchards, and nursery, etc. Planning of the township has been done in a way to make AIPL DreamCity Ludhiana a unique 'one-with-nature' residential project. The idea is to provide the new generation with amenities to have a healthy, and active lifestyle. With green shaded avenue planting on the roads to ensure shade and prevent heat-island-effect, this ecological township aspires to set the best standards in the real estate sector of Ludhiana.

Salient ecological features of Mini-Forest:
● 30 times more dense.
● 10 times more growth rate.
● 100 times more biodiverse.
● Completely free from chemical fertilizers.
● Cost effective.
● Easy To Maintain.
Health Benefits of Mini-Forest
● Boosts the immune system.
● Lowers blood pressure.
● Reduces stress hormones and increases happy hormones.
● Improves mood.
● Increases ability to focus, especially in children.
● Accelerates recovery from surgery or illness.
● Increases energy level.
● Improves sleep.
● It can help overweight people get back in shape.
● It may help prevent cancer.