Unidentified persons attack on vehicle of Punjab BJP President
No FIR was registered till filing of the report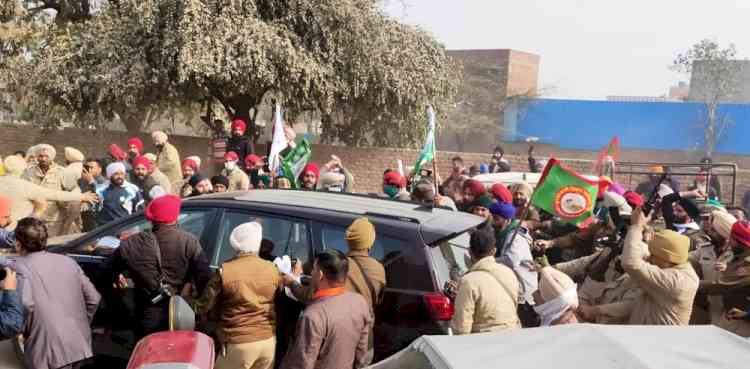 Members of various farmers union allegedly attacking the vehicle of Punjab BJP Chief Ashwani Sharma during his visit in Ferozepur on Tuesday..
Ferozepur: The State BJP Chief Ashwani Sharma's vehicle was attacked by few unidentified persons during his visit to this border town. Sharma had come to meet the party workers and to discuss issues related municipal council elections at one of the local marriage palace. The police had already made arrangements to avoid any untoward incident in wake of recent attacks on BJP leaders in Punjab and heavy police force was deployed.
 
During the meeting, the farmers belonging to various farmer's union reached the venue and started raising slogans against the BJP government. The farmers also tried to forcibly enter the venue by breaking the barricades. However, the police officials did not allow any of the farmers to enter into the palace.
 
After the meeting when Sharma came out and sat in his vehicle to leave the venue, few unidentified persons allegedly attacked the vehicle with sticks and rods. Following the attack, the entire convoy left the venue. Meanwhile, the attackers also left the venue.
 
One of the farmer union leaders said that the attackers does not belong to farmers and it seems that the attack was planned by anti-social elements who wanted to take benefit of the situation.
Meanwhile, Ashwani Sharma said that he had come here to meet the party workers only. "It seems that few people want to take benefit of the situation on the pretext of farmer's agitation. We will not allow anyone to take the advantage of the situation", said Sharma.
 
When contacted, SSP Bhagirath Meena said that the police are investigating the matter. No FIR was registered till filing of the report.
 
Kalia strongly condemns attack 
Jalandhar: Former Minister Punjab and Former State President BJP Manoranjan Kalia has strongly condemned attack on the party's state president Ashwani Sharma in Ferozepur. 
In a statement here today, Kalia said that security arrangements made by Punjab Government have proved insufficient. 
Kalia demanded that Punjab State Election Commission should take necessary action and issue necessary instructions to D.G.P. Punjab for ensure proper security arrangements. /(Rajat Kumar)