State-level function on occasion of birth anniversary of Baba Banda Singh Bahadur organised
PAU should be named on Baba Banda Singh Bahadur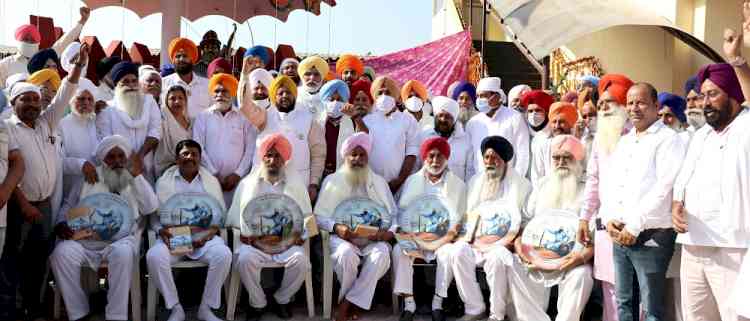 Ludhiana: On the occasion of birth anniversary of Baba Banda Singh Bahadur, a state-level function was organised under the supervision of Mr KK Bawa, President, Baba Banda Singh International Foundation, at Baba Banda Singh Bahadur Bhawan at village Raqba, near here today.

    The function started with the bhog of Akhand Path. Baba Balbir Singh Lamme Jatpura, Baba Bhupinder Singh Patiala and Baba Rajinder Singh Manjhi spoke about the life of Baba Banda Singh Bahadur. Dhadi Balbir Singh Phullanwal sang hymns about the life of Baba Banda Singh Bahadur.

    While speaking on the occasion, Member of Parliament Mohd Sahiq said that in the interest of the farmers, the Union government should rethink about the three agriculture ordinances it has brought.

    Capt Sandeep Singh Sandhu, Political Secretary to Chief Minister Capt Amarinder Singh, said that Baba Banda Singh Bahadur is a role model for the youth.

    MLAs Gurkirat Singh Kotli, Gurpreet Singh GP, Lakhbir Singh Lakha, foundation patron Malkit Singh Dakha, president Krishan Kumar Bawa, in the memory of Late Megh Singh Nagri, honoured farmers Sucha Singh Tugal, Mahinder Singh Kaithal, Satish Rai Kaithal, Sohan Singh Raqba, Maru Dass Raqba, Balwinder Singh and Hardial Singh.

    While passing a resolution unanimously, they demanded that Punjab Agricultural University Ludhiana should be named after Baba Banda Singh Bahadur, besides the Halwara Airport and Delhi-Jammu Expressway should also be named after Baba Banda Singh Bahadur.

    Foundation President Mr Krishan Kumar Bawa said that Baba Banda Singh Bahadur was a Sikh warrior who established the Khalsa rule in Punjab. He is one of the names who have been engraved in golden letters in Punjabi history, abolished the zamindari system, and granted property rights to tillers of the land. He said that it is sad that a large number of farmers have been fighting against the Union government.

    Prominent among those present on the occasion included OSD to CM Mr Damanjit Singh Mohie, Barjinder Kaur, Bhagwan Dass Bawa, Jasbir Singh Jassal, Resham Singh Saggu, Umrao Singh Chhina, Nirmal Jaura, Gagandeep Bawa, Arjun Bawa, Rajiv Bawa, Gulshan Bawa, Nand Kishore Bawa, Manoj Lakra, Pardeep Bawa, besides several others.