Seminar on entrepreneurial opportunities in tourism industry at GNA University
Speakers explained importance of acquiring various multiple skills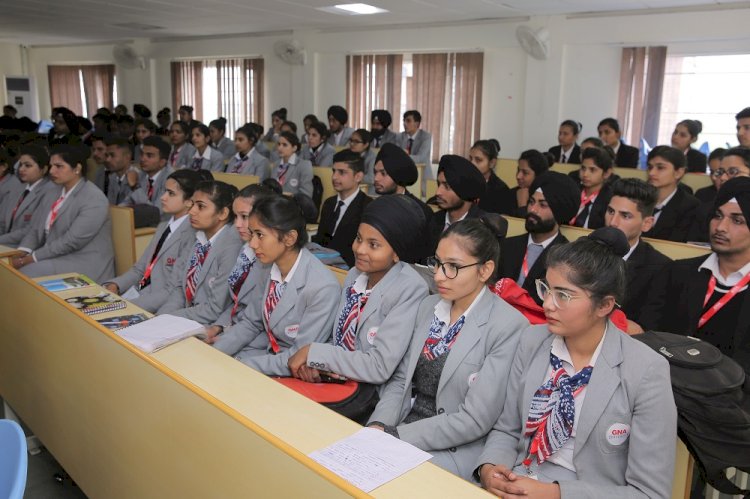 Jalandhar: Faculty of Hospitality, GNA University organized a seminar on the theme "Entrepreneurial Opportunities in the Tourism Industry" under the aegis of Institution's Innovation Council (IIC), a Ministry of HRD initiative, for the students of Airlines, Tourism and Hospitality (B. Sc. ATH). IICs are established to expose the students to new ideas and encourage innovative activities in their formative years of study.

Mr. Sachin Manocha, Owner, Avighana Business Promotion Experts, New Delhi was the Resource person for the Seminar. Mr. Manocha discussed about various present status and future prospects of entrepreneurial ventures in tourism industry. He apprised the students that tourism and travel industry is more than just air travel and offers opportunities in areas such as domestic, adventure, off-sites, events, conferences, wildlife, destination wedding B2B business, tour manager, digital marketer, photography, consultancy, VISA facilitator to name a few, in which students can set up their start-ups. During his interaction, he explained the importance of acquiring various multiple skills and encouraged students to work on their communication and soft skills. He advised students that networking and multitasking are important keys to success in any venture.
Chef Dr. Varinder Singh Rana, Deputy Dean, Faculty of Hospitality, conveyed Vote of Thanks and extended his gratitude to Mr. Sachin Manocha. He also stressed upon taking up the entrepreneurial ventures and advised the students to be ready to face the challenges in travel business world. He also appreciated the efforts of faculty members for organizing the session.
Prof. Dr. V. K. Rattan, Vice-Chancellor, GNA University congratulated the Team of Faculty of Hospitality for organizing the seminar. He expressed "It is important to organize such on-campus Seminar for the students to provide them the best learning opportunities".
S. Gurdeep Singh Sirha, Pro-Chancellor, GNA University appreciated the efforts of the Faculty to make students aware about the different entrepreneurial opportunities in one of the fastest growing travel industry. He said that "The interaction will encourage students to be job provider rather than only job-seeker and will inspire them to think out of the box". 
The faculty members Ms. Shagun Khaira, Mr. Shiv Raj, Mr. Praveen and Dr. Kusum were present during the session.