'Run for a Cause, Run for Paws'; CMR University organised Marathon and Pet Ramp Walk to create awareness around animal welfare
1300+ participants, 100+ student volunteers took part in the initiative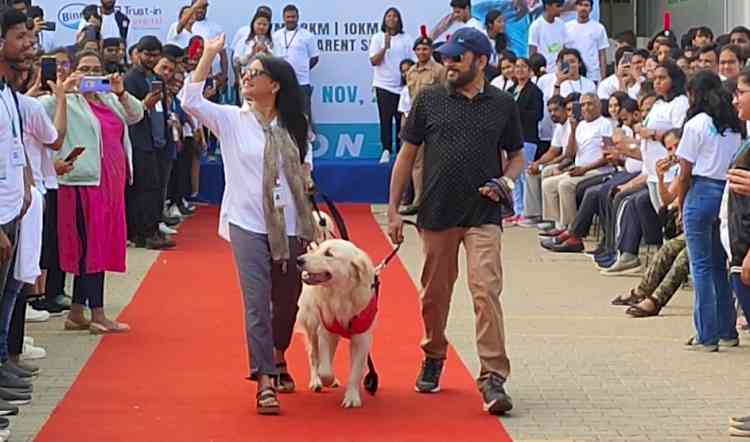 Bangalore, November 27, 2022: CMR University (CMRU), one of the top-ranked private universities in Bengaluru, organized the premier marathon, Aarohann 2022 and the Pet & Paw Parent Ramp Walk along with Sports activities by the Office of Student Affairs (OSA) of CMR University today.  In response to the rising number of stray animals in the city, CMR University launched a groundbreaking project to establish a student-run animal shelter at the university's Bagalur campus, making it the first university in India to take such an initiative led by the student community. Aarohann is the precursor to this unprecedented establishment.
 
'Action, Compassion, and Service for Animals' - ACSA, an exclusive animal shelter within the campus started by the students of CMR University out of compassion for animals, is a result of the vision to create a culture of community engagement and public service among the students and faculty of CMRU. In line with this program, the students will be assisting with the community's overall maintenance and improvement in collaboration with social organisations.
 
Speaking on the occasion, K C Ramamurthy, IPS (Retd.), Chairman, CMR University said, "The count of stray pets has risen to 9.1 million cats and 62 million dogs roaming the streets of India and the fact that 8.8 million stray cats and dogs are being cared for by shelters around the country offers a ray of hope. ACSA at CMRU is a student-led initiative and it has been a grand success with the aim to create awareness for animals around us and protect them by providing them shelter at our campus. Let's get together and run to raise awareness for our cherished friends to support and protect them."
 
Aarohann 2022 was kicked off with three runs, spanning distances of 5, 8, and 10 kilometers, respectively. Aarohann witnessed more than 1300 participants and 100+ student volunteers and 12 pets that participated in the parent-pet ramp show judged by officials from Charlies Animal Rescue Centre – CARE. There are plans to build a world-class medical center by ACSA for the rescued animals.