Rail Coach Factory to save  billions by effective disposal of non-moving and inactive material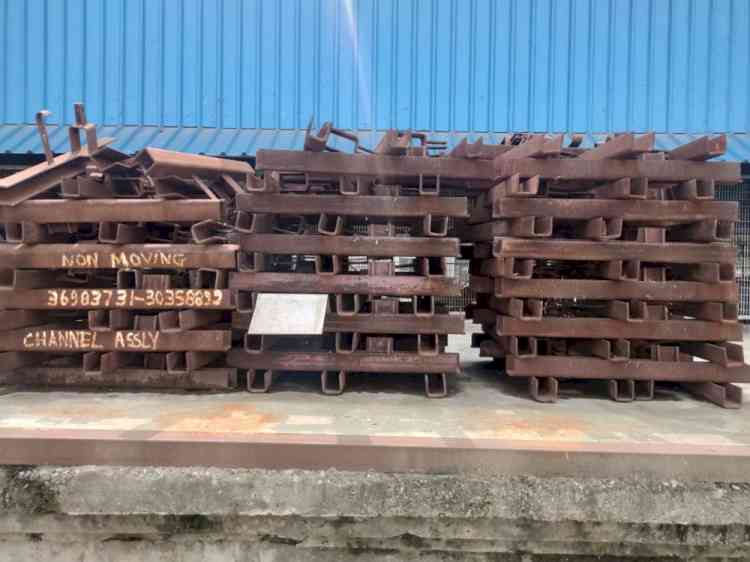 Non-moving items in RCF.
The task force has submitted its report for effective re-use of non-movable items worth Rs 203 crores
Kapurthala: The economic condition of the country has been adversely hit by Corona pandemic, these days. The central government and especially the Indian Railways have shown keen interest to curb the expenditure of all departments due to a dip in income sources, while enriching the exchequer. 
Apropos, Rail Coach Factory, Kapurthala has made a special initiative under the directions of Sh. Ravinder Gupta General Manager / RCF to contribute towards the growth of the nation's economy. A special multi taskforce was made to review comprehensively , all non moving items lying in its workshop  under this initiative . An in-depth analysis of all non-moving ( not in use in present ) material of  rail coaches lying in RCF has been done by this task force. The objective of this analysis is to reduce railway expenses and increase income by using inactive lying such material. 
Built up of these non moving item is primarily due to change in production plan of special type of coaches, discontinuance of ICF design coaches & conventional main line EMUs or change in design components and design improvemets.  
The task force has submitted its report for effective re-use of these non-movable items worth Rs 203 crores. The task force has suggested for using material worth Rs.92 crores in RCF itself with minor modification and material worth Rs.97 crores to dispatched for use in Zonal Railways/Production Units, of which material worth Rs. 14 crores has already been send to them. Further, material worth Rs.14 Crores which cannot be used by RCF & other Railways will be sold to others through e-auction, in a transparent way.  As a result of this exercise,  material worth Rs.203 Crores could be utilised which will reduce expenditure of RCF and other Railway to that extent.   
Due to this action, proper use of material worth Rs. 203 crore will be possible, which will reduce the expenses of Rail Coach Factory and other railways. At the same time, by using this non-mobile material, its maintenance, security resources and expenses will be used for other purposes.
Thus, in contribution towards the growth of the nation's economy, RCF will also strengthen its efforts in embracing digitization in its day-to-day operations and bringing more transparency in it's working.