PYDB Chairman Sukhwinder Singh Bindra bats for making youth active partners in socio-economic growth of state
Lays stress on chanellising the unbounded energy of youth in positive direction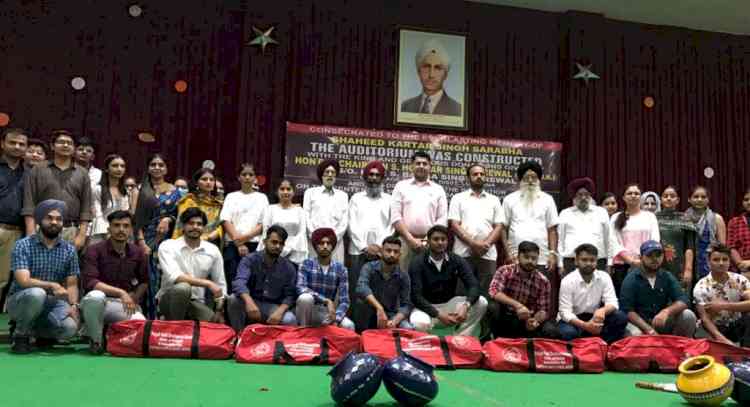 Sarabha (Ludhiana): Punjab Youth Development Board (PYDB) Chairman Sukhwinder Singh Bindra on Monday underscored the need for channelizing the unbounded energy of youth in a positive direction to make them partners in the socio-economic growth of the country and the state. 
Addressing the gathering during the Sports and Youth Festival at Shaheed Kartar Singh Sarabha Group Of Medical Institutes at Sarabha village of the district, the PYDB Chairman said that the hardworking Punjabi youth are known across the globe for their enterprising skill, resilience and acumen since long.
He said it is why that the Punjabi youth have made enormous contribution towards the socio economic development not only in their state, country but also globally. 
He said that the abundant energy of the youth need to be harnessed for betterment of the country for which such youth festivals are have important role.
Bindra said that youth festivals can play a pivotal role in grooming youth for various activities in the arena of music, dance, theatre and others at national and international arena.
He said that art and culture has a significant role in the overall development of one's personality and thus such festivals can offer a healthy platform to our youngsters in exhibiting their rare talent. 
He urged the college management to continue its endeavor to channelize the unbounded energy of youth in the constructive manner thereby serving the nation in the right earnest.
"The need of the hour is to organize more such Youth festivals to awaken the youth and thereby tapping their potential in a constructive manner to curb the social maladies confronted by the state" he added.
The Chairman also distributed sports kits among the youths in the event and assured fulsome support to the management committee. 
Earlier, the Principals of the Colleges in the Institutes, Dr Ajay Chabra, Dr Satish Shukla, Mrs Prabhjot Saini and the College management Committee welcomed the dignitaries to the college.
Prominent among present Chairman Paramjit Singh, Medical Superintendent Dr Monika Dhawan, Dr Manish, Associate Professor Dr Simranpal Singh Bindra and others.