Progressive farmer shows way in stubble management
Sows wheat using happy seeder, soil health improved and production cost reduced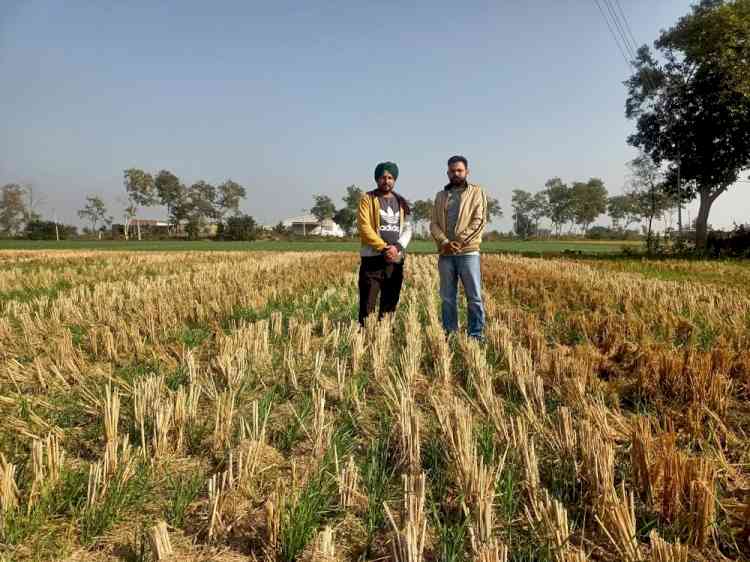 Ludhiana, October 10, 2022: Punjab Government's concerted efforts led by Chief Minister Bhagwant Mann and Agriculture and Farmers' Welfare Minister Kuldeep Singh Dhaliwal in making the state pollution free by eliminating stubble burning through new techniques and practices for managing the stubble has been gaining momentum with the more farmers  giving their overwhelming support to the cause. 
A Samrala based farmer Kulwinder Singh is one of among such farmers who has been sowing wheat crop using happy seeder and decomposing the straws in the fields. Singh said that the stubble burning kills soil's nutrients including 100 per cent nitrogen, 80 per cent sulphur and 20 per cent phosphorus and further creates dangerous gases in the environment that leads to health problems among the people. He said that in 2018, he sown wheat on one-acre with happy seeder and now the area has increased to 18 acres. He said that the yield of wheat crop had also been improved significantly. 
Kulwinder stated that he along with other panchayat members have also held a meeting in the village and took the oath for not burning the stubble. Now all of the farmers in the village plough the stubble in their fields which give good results and save money on the purchase of pesticides as their use decrease considerably. 
Samrala Agriculture Development Officer Sandeep Singh told that burying of paddy residue with the help of happy seeder helps to maintain moisture, improves soil health and also checks air pollution. He said that instead of burning the paddy stubble, the farmers must adopt in-situ management through latest techniques.