Preparations regarding census 2021 start
Census to be carried out in two phases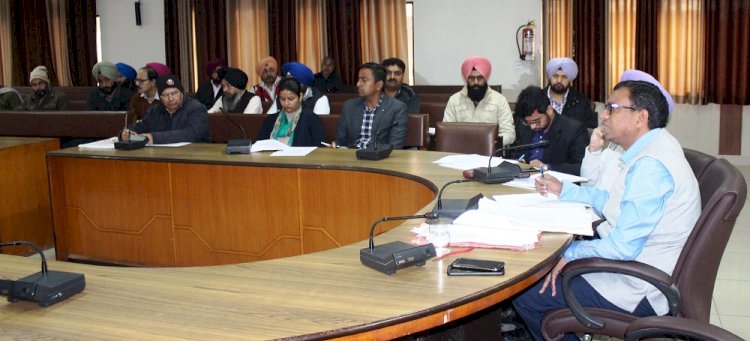 Ludhiana: The preparations regarding the upcoming Census, which is carried out every 10 years, have started and the process of Census 2021 would be carried out in two phases. A district-level meeting in this regard was held under the chairmanship of Deputy Commissioner Mr Pradeep Kumar Agrawal here today. This meeting was also attended by SDM Payal Mr Sagar Setia, SDM Samrala Mrs Geetika, SDM Raikot Dr Himanshu Gupta, District Revenue Officer Mr Joginder Singh, concerned Tehsildar's, Executive Officers, besides several others.
While providing information, Mr Pradeep Kumar Agrawal stated that this Census 2021 would be organised by Registrar General and Census Commissioner under Union Home Ministry and would be held in two phases. The first phase would be held in May-June 2020 (likely from May 15-June 29, 2020), which comprises counting of homes, preparation of lists, besides updating the National Population Register. The second phase would be held from February 9-28, 2021, in which the census (population enumeration) would be carried out. Besides, from March 1-5, 2021, the revision would be done.
Mr Agrawal informed that with regard to the Census, the Punjab government has ordered the freezing of administrative boundaries for Census 2021 and not to alter the jurisdiction of administrative units till the end of census. The enumerators and supervisors for census field work are mainly teachers (primary and secondary) from education department, clerks or any official of the state government. He directed that lists of enumerators and supervisors should be prepared and sent to Director Census (Operation) Department by February 17, 2020. He said that the total number of enumerators and supervisors should be at least 30% more than the total number during Census 2011.
The Deputy Commissioner clarified that if any department does not assist in Census work, then strict departmental action would be taken against them. He said that the enumerators and supervisors would be given training regarding data collection, validation and preparation of reports etc through the mobile application shortly. He said that manual record of the data would also be maintained. The data collected by enumerators would then be verified by the supervisors by visiting the respective houses. The statistical results would be issued upon the completion of data collection and other formalities. He has urged the residents and organisations to assist the Census in large numbers.