National Pharmacy Teachers Training Programme begins at PU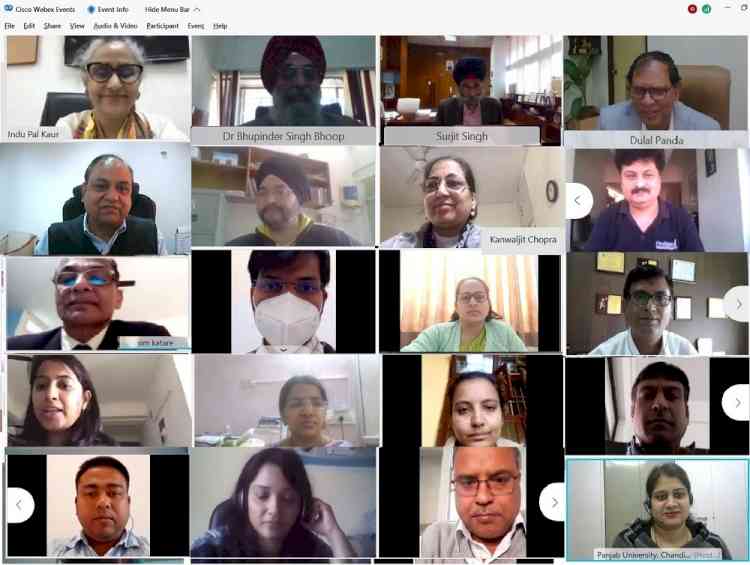 Chandigarh, November 29, 2021: A one-week web faculty training school under the initiative of UGC Networking Resource Centre (UGC-NRC), on "Attaining Quality Excellence in Drug Delivery Development & Research: Emerging Trends, Tools & Techniques in Pharmaceutics & Biopharmaceutics" from November 29 to December 04, 2021 was inaugurated today via Cisco WebEx at the University Institute of Pharmaceutical Sciences (UIPS), Panjab University, for pharma faculty and researchers across the country.
 
A total of 68 participants were selected among over 80 applicants for training, hailing from various Colleges/Universities, representing 19 different states of India. The training school intends to apprise and update the young participants among faculty and researchers on diverse scientific and professional vistas of the pertinent domain of Pharmaceutics and Biopharmaceutics, and to provide them a constructive milieu for exploring and exploiting the advanced approaches and appliances in the aforesaid pharmaceutical fields.
 
Professor Indu Pal Kaur, Chairperson, UIPS and Programme Coordinator, UGC-NRC, welcomed the participants and Chief Guest, and briefed them about the achievements of UIPS and UGC-NRC programs.
 
Professor Bhupinder Singh Bhoop, Course Coordinator, summarized about the course content to the participants, introduced the keynote speaker and conducted the proceedings of the event. Dr Gurpal Singh is the Joint Course Coordinator.
 
Professor Surjit Singh, Director, Post Graduate Institute of Medical Education & Research (PGIMER), Chandigarh, was the Chief Guest and shared his words of wisdom. He congratulated UIPS on being the premier and highly rated department of the Panjab University and delightedly shared the cordial and synergistic relation of PGI and UIPS.
 
Professor Dulal Panda, Director, National Institute of Pharmaceutical Education & Research (NIPER), Mohali, Punjab was the Keynote Speaker and delivered the Keynote Address on "Cancer Chemotherapy: Potential Role of Drug Delivery." Professor Panda gave an overview of microtubule structural diversity originating from tubulin heterogeneities, and how cancer cells use those heterogeneities to acquire resistance against clinical agents.  Citing an existing successful attempt of Maytansine, he pondered on the need to formulate and develop new drug delivery system to counter the developed resistance. Further, he encouraged the participants to adopt Tubulin core as an emerging area by sharing research findings of potent delivery system of microtubule -destabilizing nanocomplexes for hepatocellular carcinoma cells.
 
Professor V. R. Sinha, Dean of University Instruction, Panjab University, presided over the event and shared his Presidential remarks. He appreciated the efforts of coordinators telling that course would be an ideal opportunity for the novitiate scientists to gain familiarity with diverse conceptual and practical aspects, ranging widely from laboratory research to its industrial commercialization.
 
Subsequent sessions included a lecture by Professor S P Vyas, Drug Delivery Research Laboratory, Department of Pharmaceutical Sciences, Dr. Harisingh Gour University, Sagar, Madhya Pradesh on "Nanomedicine-Based Strategies for Purpose Specific Drug Delivery: Options and Opportunities." The post-lunch session covered informative talks by Professor Vandana Patravale, Professor of Pharmaceutics, Department of Pharmaceutical Sciences and Technology, Institute of Chemical Technology, Mumbai, Maharashtra on "Computational Pharmaceutics: A Changing Paradigm in Drug Delivery" and "Nanotechnology-Based Drug Products: Regulatory Intervention" by Dr Amita Sarwal, Pharmaceutics Division, University Institute of Pharmaceutical Sciences, Panjab University, Chandigarh.
 
UIPS is the first and the only Pharmacy Institute in the country selected by MHRD for creating UGC Networking Resource Centre to promote and foster research and academics in the field of Pharmaceutical Sciences by training young pharma trainers, selected across the nation.