Maximum leveraging of technology at KMV for progress of students
Read students view-point too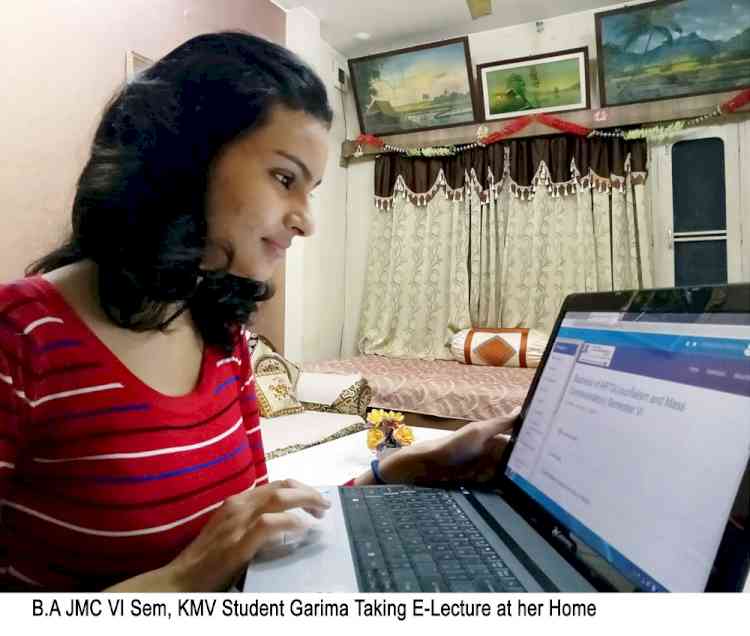 Jalandhar: Kanya Maha Vidyalaya excels in the usage of technology and e-based education for the benefit of the students. In the present situation when students are staying at home, KMV has introduced Teaching Learning Management Program for unhampered continuation of the classes through online modules, assignments, lectures, lessons, notes and tests. 
Throwing light on Prof.(Dr.) Atima Sharma Dwivedi averred that the interesting thing is that KMV was already prepared and all set to introduce this established software and so what could be a better time than the present one to make use of it. E-classes with Learning Management Program have commenced with immediate effect so that the students don't have to suffer. Students have been guided to attend online classes. Each student has been provided with user ID and password. Teachers have commenced their classes through recorded lessons and PPTs. We may have paucity of time to conduct mid semester test, thus the assessment will be on the basis of assignments and tests given by the teachers to the students on-line. The teachers have also been apprised  with the nitty gritty  of evaluation and grading system to facilitate them to work in flawless manner. It is worth a mention that for  the past 10 years most of the syllabi has been converted into lectures in PPT form and e- lectures by the faculty, so much so that some subject teachers have taken total recourse to e- lectures.  Now it is with great ease that these lectures are being dispensed online for the students. The students are also relishing these  lectures as this was the time when they had to sit home without much activity. They are fully utilising this time in fruitful exercise of receiving lectures at home. The doubts of the students are being covered through online chatting. In due course assignments will be given online and the grades and marks will be shared online giving students ample scope for improvement. The faculty members also are appreciative of this timely action. They also believe that the shift has been smooth and easy. To further facilitate the teachers a day long workshop on learning management system was organised by expert on Saturday and since their experts are meeting the faculty members in smaller group to train them further. Students are very satisfied by these e-classes. Garima a JMC student averred that teachers have also always been in touch with the students group through WhatsApp and have been giving e-lectures in  40 state-of-art smart classrooms, yet this complete transition is for the utmost benefit of the students. Aroma a boarder who is student of BA Sem. 6th  English Hons. maintained, "the decision to suspend classes in the wake of COVID-19 is unavoidable and thus good. But, I was feeling quarantined at home but online lectures have come to my rescue and I have started enjoying them." 
A science student Rudhanshi adumbrated, "I am proud to be a KMVite. The individual care given at this heritage institution has helped me to evolve holistically, but this particular gesture of my teachers to impart us e-education has left me overwhelmed. 
Kamakshi a Sem. VIth BA Hon. (3 year course) maintained that I was worried as to how would our syllabi be covered and that the classes have been abruptly suspended but the e-lessons given by teachers have given a solution to my problem. More so all our doubts are cleared and queries answered during the chat sessions. The students then chorused that "No wonder than KMV is the No. 1 college of India as ranked by India Today ranking."