Massive door to door awareness drive conducted in 836 villages of Ferozepur under 'Mission Fateh'
BDPOs and sarpanches visits door to door to make people aware against covid-19 pandemic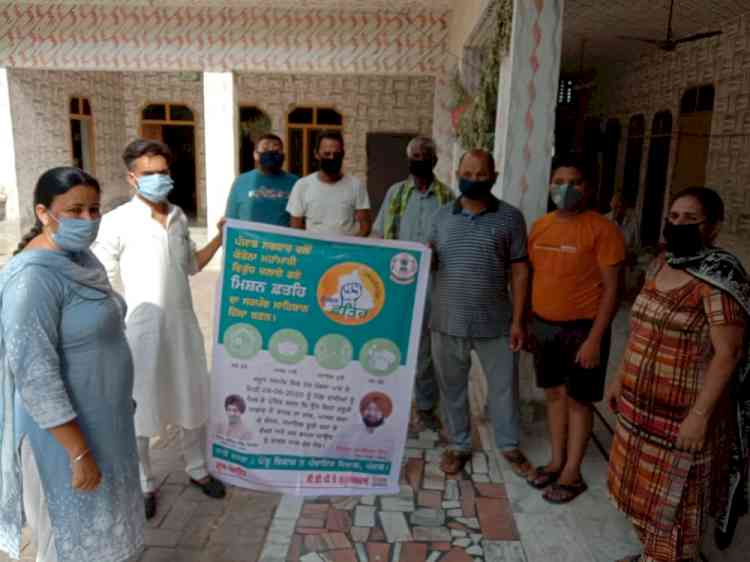 Ferozepur: Under Punjab Chief Minister Captain Amarinder Singh's 'Mission Fateh', the Rural Development and Panchayat department today organized massive awareness campaign in all 836 villages to make the people aware of precautions to be taken for checking the spread of Covid 19 pandemic.
 
Divulging the details, the Deputy Commissioner  Ferozepur Mr. Gurpal Singh Chahal said that sensitization activities were held by BDPOs and sarpanches across all the 836 villages under 'Mission Fateh. The officials along with the Panchayat members visited door to door to aware people against the Corona virus Pandemic. 
 
The Deputy  Commissioner said that  during the awareness drive the rural folk was asked to follow the golden principles of social distancing, wearing masks and washing hands to check the spred of the virus.
 
He said that the villages falling in the blocks Khallkhurd, Guru Har Sahai, Ferozepur, Zira, Makhu and Mamdot were extensively covered in this drive. 
 
He said that during the campaign door to door visits was carried out by Sarpanches to make the people aware regarding Covid 19 pandemic. 
 
He said that the people were asked to wash their hands frequently, masking and obeying social distancing during their day to day activities to keep the Covid-19 pandemic at bay. 
 
He said that the people were apprised about 'Mission Fateh', which was the brainchild of the Chief Minister, would emerge as a symbol of firm resolve of the people of Punjab to check the spread of novel coronavirus through discipline, cooperation and compassion. 
 
Meanwhile, DDPO Mr. Harjinder Singh said it was also emphasized that the Chief Minister has through this mission stressed on the need for adherence to all safety protocols, cooperation with the state government through compliance with the lockdown restrictions and compassion towards the poor.
 
He added that the BDPOs and Sarpanches disseminated the message that 'Mission Fateh' was a true reflection of the Punjabi spirit to overcome all odds for emerging victorious even in hostile circumstances.