KMV to organize "world vision 2050 through science"
A DBT sponsored exhibition on Jan 22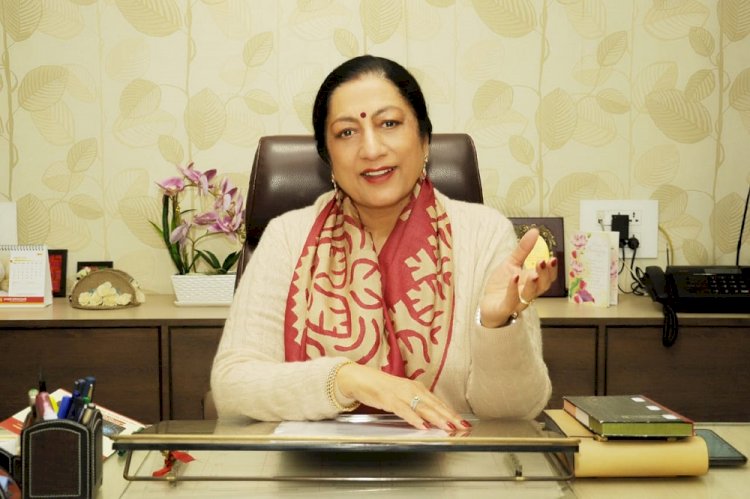 Principal Prof. (Dr.) Atima Sharma Dwivedi.
Jalandhar: Kanya Maha Vidyalaya organized a press conference today to acquaint the media fraternity about an Exhibition sponsored by Department of Biotechnology, Ministry of Science & Technology, Government of India titled World Vision 2050 through Science that is being organized by KMV on January, 22, 2020 at 10.00 a.m. 
While addressing the media fraternity during the press conference, Prof. (Dr.) Atima Sharma Dwivedi, Principal KMV  averred that the present exhibition will serve as a forum for discussing current issues and insights in the teaching of science among the budding scientists. It will also provide an apt platform for refining thoughts, sharing concerns and receiving constructive feedback during enabling and enriching experience. The students will stand to gain a lot from this event. It will encourage the students to innovatively think about their future, to tackle all the present issues that the world is facing and also suggest solutions through creative ideas and imaginations. This exercise will increase passion for science among the masses through innovative techniques. The aim is to develop adaptable, creative and motivated individuals who can take responsibility for their own learning and also work effectively in team for the betterment of society- a world in 2050. There will be no registration fee for the students to participate in various competitions and moreover, there will be cash prizes worth Rs 5000, 3000, 2000 & many more for the winner students. The event will witness the participation from more than 30 schools and colleges and the total number of participants shall be more than 700. 
Dr Garima Gupta, Scientist, Department of Biotechnology, Government of India will be the Chief Guest for the occasion. Sh. Chander Mohan, President, Arya Shiksha Mandal, will be the Presiding Dignitary, whereas, Dr Partap Singh Patti, Head, Department of Biotechnology, Guru Nanak Dev University, Amritsar and Dr Kamaljit Singh, Department of Chemistry, Guru Nanak Dev University, Amritsar will be the Guest of Honour for the occasion.
Briefing the media about the schedule, Prof. (Dr.) Atima Sharma Dwivedi maintained that during the  Exhibition various events have been planned for the students namely Visualize 2050 through still and working models, Flora Expo- Plant variety show with ornamental and medicinal plants, Kaun Banega Scientist- Screening and Stage show of General Science Quiz, Wings to imagination through canvas & DANscience (Choreography). There are two levels for these competitions. Level 1 will include participants from 9th to 12th class and Level 2 will have undergraduate science students as the participants. Stressing on the benefits for the students Prof. (Dr.) Atima Sharma Dwivedi maintained that students are getting a great platform for creativity, innovation, research through the Star College status of the college.
It is worth a mention that KMV is one of 30 colleges in India to be granted the prestigious status of Star College by Government of India.  Only 3 colleges in Punjab including KMV have been granted this prestigious status. KMV has striven ceaselessly to expand landscapes of learning. The college is running successfully courses in Physics, Chemistry, Mathematics, Zoology, Botany, Electronics, Microbiology, Bio Informatics, Agriculture, Environment Management, Biotechnology and Food Science at under graduate level. The college is striving tirelessly to maintain its standards of excellence by fostering an environment of endless opportunities and promoting culture of life-long learning and this particular exhibition will contribute colossally to this noble cause.