Farmers elated over elaborate arrangements for wheat procurement, praise government and administration
Smooth and hassle-free procurement of grains underway in Ludhiana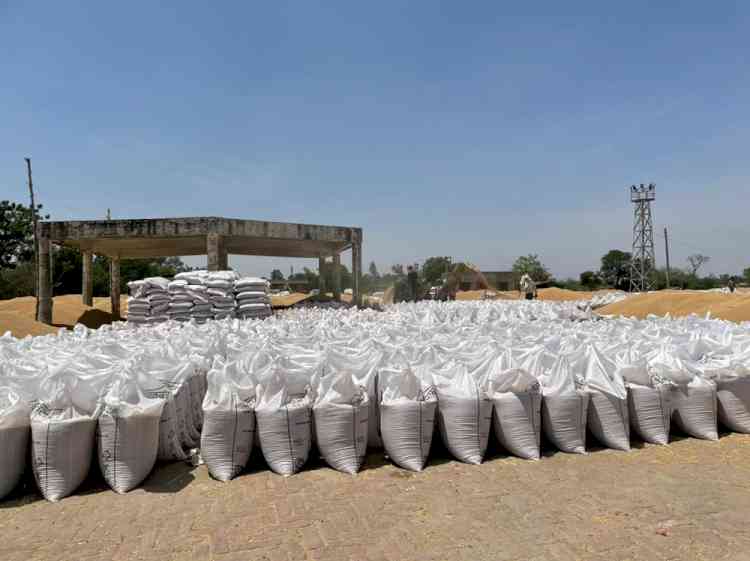 Ludhiana: The elaborate arrangements made by the Punjab government led by Chief Minister Captain Amarinder Singh for smooth and hassle-free procurement and lifting of wheat in the district had brought in cheers to the farmers with their harvest was being procured within few hours.
Commending the government and administration for their concerted efforts in the ongoing procurement season, the farmers, who had gone to the various grain markets with their golden grains, expressed utmost satisfaction over the arrangements.
Farmer Rajpal Singh of village Dudhal who arrived in the Payal Grain market said that he had brought 180-quintal wheat in the market in the morning. He added he was surprised over the prompt procurement of his harvest and he was free from the market within three hours. Singh said that social distancing and masking were also being strictly ensured during the procurement operations.
Similarly, farmers Manjeet Singh of village Malo Daud and Surinder Singh of village Sihan Daud who had come to Sihan Daud grain markets said that they had brought 200-quintal and 150-quintal of grains in the market respectively on Monday morning and their produce was immediately purchased by agencies. They thanked the government for putting such an effective mechanism to facilitate them by ensuring quick procurement.
Meanwhile, Deputy Commissioner Varinder Kumar Sharma said that the Punjab government was committed to lifting every single grain of the farmers in the grain markets and clear directions of strict action were issued to officers for any sort of inordinate delay in the procurement.
He said that for purchase of crop, special blocks marking of 30 by 30 feet had been marked in the grain markets in which every farmer unload their produce so that social distancing was maintained besides masks were being distributed among the farmers, labourers, and other workforce engaged in the procurement operations.
District Food and Supply Controllers Sukhwinder Singh Gill and Harveen Kaur said that teams were already constituted to conduct field visits for ensuring adequate arrangements of smooth procurement in the district.