Extension lecture organised by department of music at RGC
Lecture delivered by well-known musician Subhash Ghosh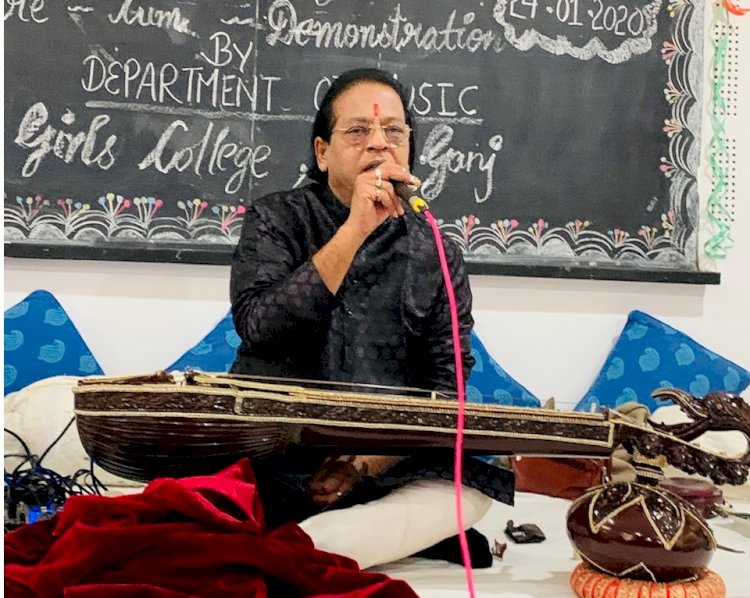 Ludhiana: The Department of Music organised an extension lecture by the well-known musician Shri Subhash Ghosh, disciple of world famous Maestro Amjad Ali Khan. 

Shri Subhash Ghosh has invented music instrument called Nav-Swar Ragini. Talking about his newly invented Instrument he said that it is the third instrument that he has developed. 
Principal Dr. Inderjit Kaur and S. Ranjodh Singh, President, Ramgarhia Educational Council accorded a warm welcome to the esteemed guest. Shri Subhash Chander is also All India Radio Artist. He played Nav-Swar Ragini and told that both Indian Classical and Western Music can be played on this instrument. 
S. Ranjodh Singh said that it is a matter of great proud for the students of music to listen and learn from such great artist that would motivate them to learn more in their field. 
Principal Dr. Inderjit Kaur commemorating the endeavours of Prof. Charanjit Kaur, Head, Department of Music said that the Department of Music has been organising such lectures to enhance the knowledge of students. 
At the end, Shri Subhash Ghosh answered to queries of the students.