Deputy Commissioner appeals for immediate test on covid symptoms
Covid tests are done free of cost at government testing centers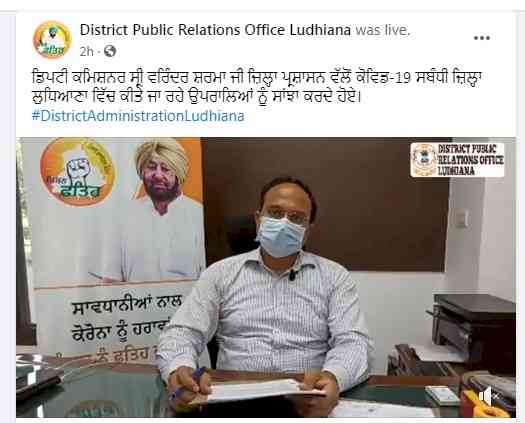 Mr. Varinder Kumar Sharma, Deputy Commissioner, Ludhiana.
Ludhiana: Deputy Commissioner Mr. Varinder Kumar Sharma today interacted with the residents through Facebook Live Session on the official page of District Public Relations Office, Ludhiana. He appealed to the people of the city to immediately go to the nearest Covid testing center and get their test done without any delay and these tests are being done free of cost at the government testing centers. He said that if the disease was detected at the earliest then it could be controlled to a large extent. When the covid is positive, the level of oxygen is sometimes very low, which sometimes leads to unfortunate events.
The Deputy Commissioner clarified that the peak of Covid pandemic is likely to reach its peak in the 4 weeks of September for which this formula has been implemented so that the markets do not get crowded.
Replying to a query regarding the complete lockdown in the month of September, he said that no such information had been received from the state government and baseless and false rumors circulating on social media should be avoided.
Asked about the 7 pm lockdown, Sharma said that it was common for many people to hold parties in the evenings when they were free from their work, which led to the spread of corona virus. The risk of infection remains. This decision has been taken keeping in view the health of the people which is in the interest of all of us. Therefore, we should all follow the instructions issued by the Punjab Government regarding COVID-19.

Replying to a query regarding the reopening of all the shops, the Deputy Commissioner said that he also visited the city today in which it did not come to his notice. The area they visited was half closed and half open. He said that he would also bring this to the notice of the Commissioner of Police, Ludhiana so that he would take up the matter with the concerned SHOs. He also appealed to the market associations to follow the instructions issued by the government and cooperate with the district administration so that the pandemic could end before the coming festive season.

Answering a question about the test report immediately or online result, he said that it creates a very serious situation, it is often seen that when a person's positive report is made public, he is looked down upon by the people around him. And repeated calls from his friends / relatives which further worsens the patient's health.
Mr. Sharma appealed to the people of the city to understand their moral responsibility and not to engage in any social activities in the coming month of September, such as birthdays, weddings etc. He said that this would keep them safe and help them to keep themselves safe.