DDNSS organized webinar on India's National Security Futures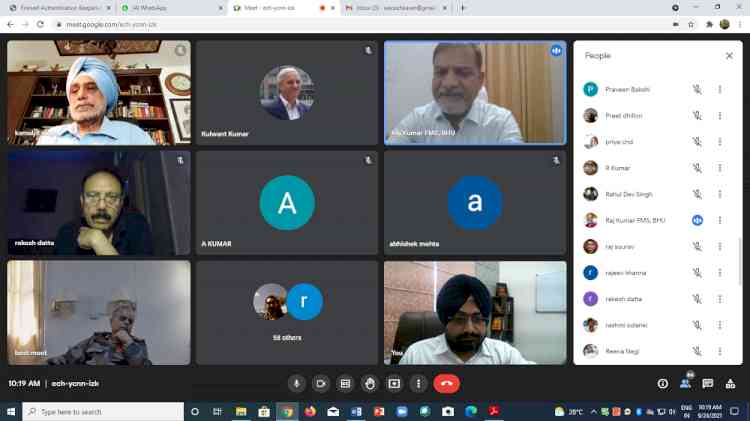 Chandigarh, September 24, 2021: The Department of Defence and National Security Studies, Panjab University, Chandigarh  organized a special lecture on the theme 'India's National Security Futures' by Lt Gen Raj Shukla YSM,SM, GOC-in-C Army Training Command, Shimla through online mode.
Gen Shukla in his address brought out the seven key postulates that can shape and define the national security futures viz information,  role of technology, Artificial Intelligence, digitalization, R&D, foreign policy and economic buildup, capacity building, Border Management, climatic issues and civil-military fusion. He  mentioned how everything happening around us is linked to the domain of National Security.  He first brought out the effects of pandemic and how it has affectively disturbed the health services, economic buildup, social structure and the geo-politics of the world. He further highlighted the role of information in national security wherein sharing and assimilating the right information at the right time is key to secure your domain at the larger perspective.
He further added that the nation has to strengthen its Artificial Intelligence (AI) vis-a-vis its neighbours and beyond.  In addition to enhance our AI, the nation also has to work profusely on technological research and development. The changing technology has changed the parameters of war fighting and the future of armed forces is not limited to the borders but has to look beyond their area of interest and reach. The strategic depth is what the nations are looking for and that can only be achieved by enhancing our assets.  
The speaker aptly emphasized on the significance of foreign policy too. The present world order has called for a more strong yet supple foreign policy wherein country's national interest should not be compromised. The Geo-political, geo-economic conditions define country's stature in conjunction with its foreign policy and decision making.
Prof. Raj Kumar, Vice-Chancellor Panjab University graced the event as Chief Guest and shared his views on the role, contribution and the supreme sacrifice the armed forces have made in the security of the nation. He highlighted the significance of discipline like national security in raising the consciousness amongst the masses, to acknowledge the hardship of the forces and contribute to nation building.  
Earlier, Dr Jaskaran Singh Waraich, Chairperson, introduced the speaker to the audience and welcomed all the distinguished dignitaries who joined the special lecture.
Later Gen. Shukla answered the various queries raised by the audience. The lecture was presided by Prof Rakesh Datta. The webinar was attended by various notable personalities like Lt. Gen K J Singh (Retd) former Army Commander, Western Command; Maj Gen Amarjit Singh (Retd) Director Gyan Chakra, members of Gyan Chakra and Gyan Setu think tanks, Senior veterans, serving armed forces personnel, university faculty, research scholars and students from various departments of the University.