CT University honours 25 pharmacists on World Pharmacist Day
Eminent Pharmacists recognised for their dedication, devotion, hard work and tireless efforts in the management of COVID-19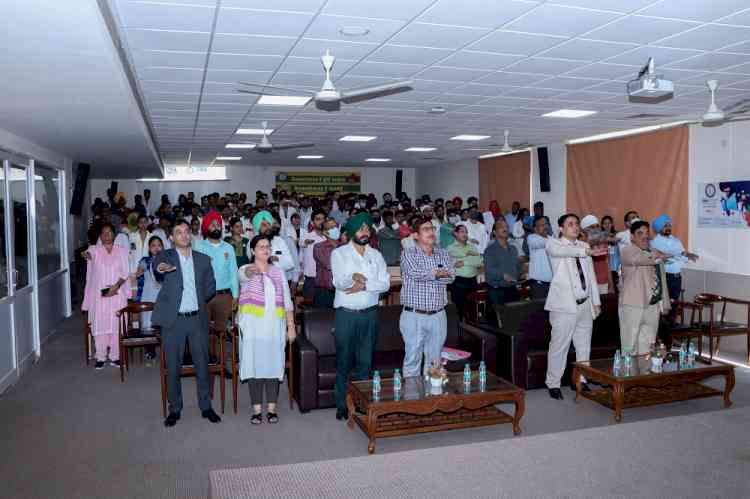 Ludhiana, September 24, 2021: The School of Pharmaceutical Sciences, CT University, marked 'World Pharmacist Day' in association with The Punjab State Pharmacy Officers' Association (PSPOA) and Association of Pharmaceutical Teachers of India (APTI). The purpose of this celebration was to encourage activities that promote and advocate the role of the pharmacist in improving health in pandemic COVID-19.
The day's events began with a welcome address by Dr. Harsh Kumar Sadawarti, Vice-chancellor, CT University. He acknowledged World Pharmacist day and addressed all pharmacists for their commendable work in this pandemic situation.
The Chief Guest for the day remained Narinder Mohan Sharma, President, The Punjab State Pharmacy Officers' Association. He enlightened the audience with several noteworthy proceedings of their departments. He along with CTU officials felicitated 25 known pharmacists across the region.
Later Dr. Saurabh Sharma, Principal, School of Pharmaceutical Sciences emphasized on the year's theme for 'World Pharmacist Day' - "Pharmacy: Always trusted for your health". He also acknowledged the pro-activeness, dedication, devotion, hard work and tireless efforts of pharmacists in the management of COVID-19.
CT University Chancellor Charanjit S Channi said that this event proved to establish the stand of the pharmacist amidst other healthcare professionals and also served as an encouraging booster to emerging young pharmacists.