City-based social activist and senior citizen Dr Thaman takes up issues of safai karamcharis, safai sewak and sewer men 
Writes to Punjab CM and Local Bodies Minister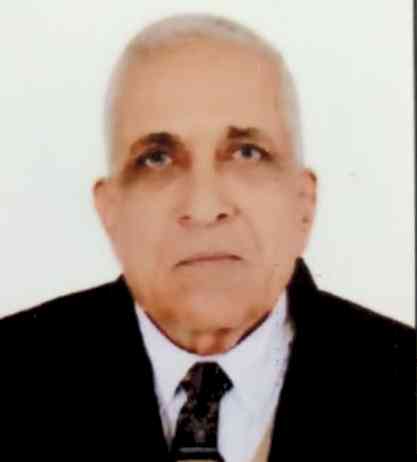 Dr Satish Kumar Thaman.
Ludhiana: Dr Satish Kumar Thaman- a city-based social activist and senior citizen has written to Punjab CM Capt Amarinder Singh and Brahm Mohindra, Minister for Local Bodies, Punjab, requesting them for job regularization in respect of staff of contractual employees/ adhoc staff in state of Punjab, in respect of safai karamcharis/ safai sewak and sewer men in recognition in the services rendered by these persons during covid-19.

In his representation, Dr Thaman has stated that role of the Safai Karamcharis working and now performing ticklish duties on initial start of Novel Coronavirus (COVID-19) have a great contribution by way of giving valuable services. 

He has suggested that a committee be formed under Chairman State Safai Karamchari Commission Punjab to boost the morale of Safai Karamcharis who are fighting Covid 19 during risky conditions by rendering their services by giving benefits of (i) Regularization of contractual staff (ii) Compulsory insurance cover in indoor / outdoor hospitals of Punjab, (iii) Release of immediate issue of appointment letters on compassionate to legal heirs who leave this universe during service.

He has also suggested that to complete Swachh Survekshan under Swachh Bharat Mission and under Smart City Project, example to be made for all states of the country that 'Safai Karamcharis in Punjab are giving better facilities at par with the Global Counties'.

He has also suggested that all contractual Safai Karamcharis working under all wings of  Minister for Local Bodies must be regularized, as they are risking their lives, thus fighting Covid-19 by way of performing their duties in critical condition. 
He pointed out that it is noted that majority of the Safai Karamcharis, Safai Sewaks are working on contract basis in State of Punjab on DC Rates/ Nominal fixed rates or on Adhoc Basis in Municipal Corporations, Municipal Councils and Nagar Panchayats and in all Local Bodies Department Wings and some contractors fleece them, as wages fixed by the Government of Punjab and this issue needs urgent attention of State Government. 

He said that Safai Karamcharis are complaining that their monthly income is very low and it is hard for them to meet their daily needs. The state government must take necessary action and measures for the welfare of Safai Karamcharis and Safai Sewaks and Sewer men, thus clearing dirty manholes and other ticklish duties.

Further, he wrote that, there is a shortage of staff/ manpower in every wing of the Local Bodies in respect of Safai Karamcharis and all vacancies may be filled under concept of ghar ghar naukari for early placement of younger generations.

He has also urged for paying attention towards Safai Sewaks' medical treatment. He demanded that Local Bodies Minister must constitute watchdog committees to study the gravity of the situation and for their upliftment.