'2020-2030 to witness a golden period for start-ups' share experts at Amity University  
Several questions were posed by the students about the upcoming opportunities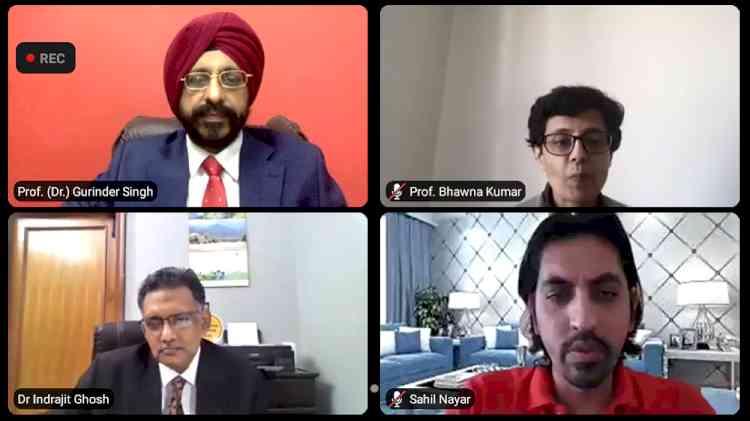 A panel discussion on "COVID 19: Challenges & Strategies for Carving a Great Career" was organized by Amity University Uttar Pradesh. The discussion aimed at keeping students motivated & engaged while ensuring their meaningful personal & professional development. Experts from a cross section of industries enlightened students and guided them for their future journey & to attain their professional goals.   
 
Prof (Dr) Gurinder Singh, Group Vice Chancellor, Amity Universities welcomed the guests and stated how sessions like these aimed at addressing the uncertainty and questions plaguing the mind of students about their future & career. He shared how the future looks positive and he was hopeful for every industry to bounce back on track soon.    
 
Mr. Indrajit Ghosh, Chairman-MSME Chamber of Commerce & Industry of India shared that people everywhere have been stressed due to the pandemic. However, on the brighter side he added that the period from 2020-2030 will be a golden time for start-ups, giving students many opportunities to explore entrepreneurship. He averred that several global businesses were shifting their focus towards India and establishing their presence here, displacing their preference for China. He added that keeping the Atmanirbhar initiative of the Prime Minister, the MSME industry is playing a major role in producing things, like the recent example of PPE kits being produced. He shared that the coming six months will be the most difficult period to pass as recruitments will be happening at a slower pace. He added that the scenario will improve after April. He suggested students to be sincere in their efforts and hone their skills.   
 
Ms. Reetu Raina, CHRO Quick Heal Technologies urged students to look at the present crisis as a correction phase and how technology will be the key in driving businesses in the coming times. She added that students should understand the new business models that are coming up. She shared the need for skilled manpower in the IT industry and called upon students to prepare themselves for the changing needs. She stressed on having agility to adapt to the changing needs of the industry and not waste this time.   
 
Mr. Sahil Nayar, Senior Associate Director-HR, KPMG India shared that people have been confined to their homes owing to the virus. He stated that the Industry-Academia partnership was the key during these times. He advised students to identify the problem of tomorrow and prepare themselves. He suggested students to Connect, Collaborate and build Chemistry differently from others to succeed. He shared that the future is all about hybrid, balancing between situations and skills & building solutions for tomorrow.   
 
Ms. Vineeta Kukreti, Human Resources Director, FISERV advised students to look at industries that have not experienced much impact & also work on their own skills. She stated examples of previous economic downturns and how it is human nature to bounce back. She suggested students to leverage forums like these to build their network and develop flexibility, adaptability & agility. She further encouraged students to take the plunge and explore their ideas in their journey ahead. She also called for focusing on having the learning ability, the ability to unlearn and reskilling themselves.   
 
Dr. Sameer Joshi, MD, Knoesis Enterprises shared that the pace of technology adoption is expected to remain unbated and may accelerate in some areas. He stated that agility is a key requirement of the present and upcoming times along with critical thinking & problem-solving skills.   
 
Several questions were posed by the students about the upcoming opportunities and the ways to approach the future job needs.