World Kidney Day observed at DMCH
Department of Nephrology, Urology & Kidney Transplantation, DMCH observed this day today by conducting an awareness session for the residents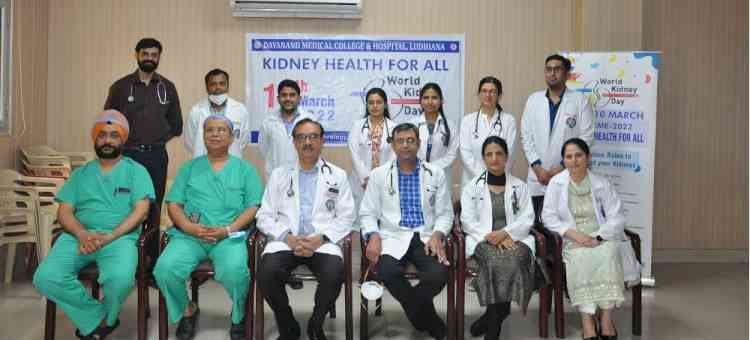 Ludhiana, March 10, 2022: World kidney day is observed annually on 2nd Thursday in the Month of March. Department of Nephrology, Urology & Kidney Transplantation, DMCH observed this day today by conducting an awareness session for the residents.
During the session various topics related to kidney care and its management were discussed. One the occasion, all faculty members from the Department of Nephrology, Urology & Kidney Transplantation were present.
In his message Prem Kumar Gupta Secretary, DMCH Managing Society, said that DMCH has state of the art facilities including kidney dialysis, peritoneal dialysis and renal transplant to provide the best treatment to various kidney related ailments.
Dr Sandeep Sharma, Professor & Head Department of Urology and Medical Supdt. said that kidney disease can affect all age groups .This year's theme for the day is 'Kidney Health for all - bridge the knowledge gap to better kidney care' which emphasizes every person should be aware about kidney care.
Speaking on the occasion, Principal Dr Sandeep Puri lauded the efforts of all the departments for organizing this session and said that health care workers and the general public need to be aware about variuos medications which can cause kidney damage and need to avoid it.
Dr Vikas Makkar Professor & Head Department of Nephrology, said that people having diabetes, high BP, heart disease and family history of kidney failure are at greater risk for kidney disease. Patient with any of these ailments should get their kidney function tested as and when they are diagnosed with these disease , regular check-up and timely diagnosis can lower the risk.
According to Dr Makkar, to protect your kidneys pay attention to these symptoms:
•    Fatigue and weakness
•    Difficulty or painful urination
•    Foamy urine
•    Pink or dark urine (blood in urine)
•    Increased thirst
•    Increased need to urinate (especially at night)
•    Puffy eyes
•    Swollen face, hands, abdomen, ankles, feet
•    Regular kidney function test in diabetes, high BP and above the age of 40 year.
Tips for kidney care are:
•        Be active and fit
•        Regular monitor your blood sugar and blood pressure level
•        Don't  smoke and eat healthy diet
•        Intake of plenty of fluids