World Hepatitis Day observed in DMCH
The theme of World Hepatitis day for this year 2021 is "Hepatitis can't wait"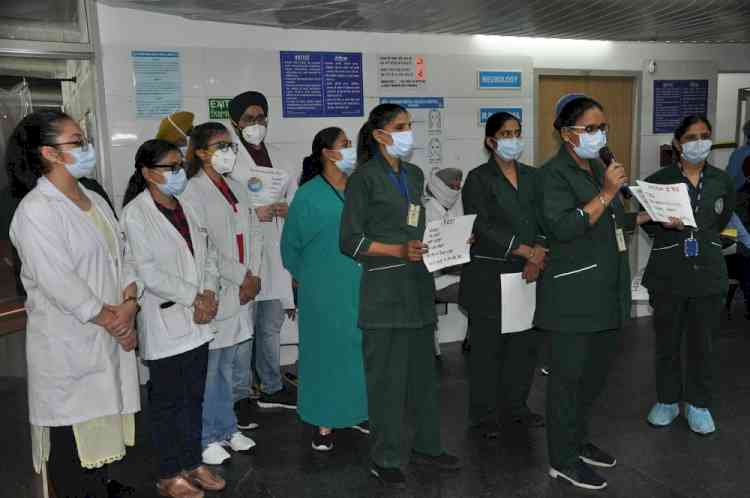 Ludhiana: Department of Microbiology DMCH organized Quiz competition on Hepatitis for MBBS students (Batch 2019), Poster Competition for BSc MLT/Paramedical Students, Awareness talk by infection control nurses along with Residents in Medicine OPD/Endoscopy for Patients/Attendants, Lecture on "Needle stick injury & post exposure prophylaxis" for health care workers and Inter departmental integrated lecture on viral hepatitis in coordination with department of Medicine, Pathology & Community Medicine for MBBS students.
The theme of World Hepatitis day for this year 2021 is "Hepatitis can't wait". HOD Microbiology, Dr Veenu Gupta stated that this day is celebrated every year on 28 th July to raise awareness about viral hepatitis which impacts more than 354 million people. It is a group of infectious disease commonly caused by viral infection (Hepatitis A,B,C,D,E) in addition to other risk factors such as consumption of alcohol, toxins, some medications & certain medical conditions. It requires multipronged approach for early case detection and appropriate treatment.
Advanced diagnostic facilities for hepatitis are available in Microbiology department like fully automated RT PCR for HBV & HCV, ELISA for virus hepatitis markers, Rapid test for screening of patients in emergency for hepatitis B infection, Family screening-HBs Ag, Anti HBs Total, Anti HBs and Chronic HBV Panel- HBeAg, Anti HBe, HBV DNA PCR are available. Faculty (Dr Rama Gupta & Dr Meenal Gupta) and residents of Microbiology department coordinated the event.
 
Blood Donation Camp also held
A Blood Donation Camp was also held in Department of Transfusion Medicine at DMCH. Lot many medical, nursing and paramedical students voluntarily donated blood on the occasion. According to Dr Amarjit Kaur (Professor & Head of Transfuion Medicine),conducting of voluntarily blood donations camps in hospital has started gaining momentum in the current, due to extreme declining trend of COVID pandemic. It has brought an overall picture of routine activities back on its trend.
Dr Shriti Kakkar (Assistant Professor of Pediatrics) says that donating blood is a very noble cause and people should come forward without any hesitation to donate their blood for Thalassemic children and other those who require blood for their treatment.120 units of blood were collected during the event.