Workshop on physics under DBT star college scheme
Event was attended by more than 200 science students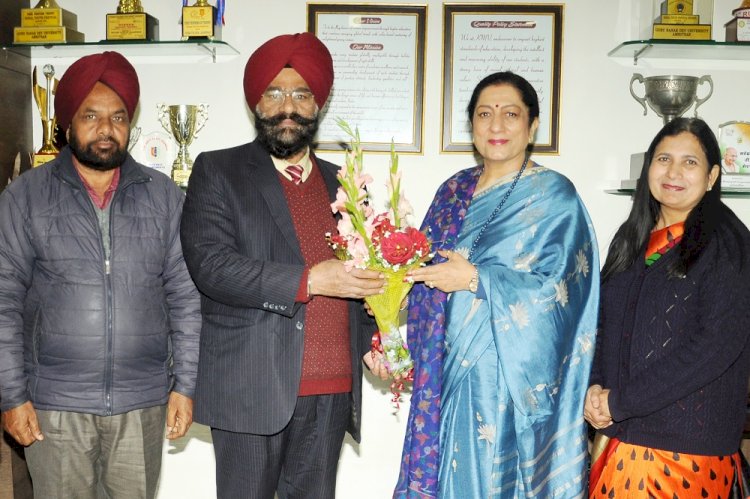 Jalandhar: Kanya Maha Vidyalayaa organized a one day Experimental workshop cum interaction by Prof. M.S. Marwaha under DBT Star College Status Scheme. The workshop was attended by more than 200 science students. The aim behind organizing this workshop was to provide a hands-on learning experience of the Physics behind every day phenomena and the mundane things we see around us. 
Dr. Marwaha demonstrated and simplified the complex Mathematics and Physics concepts with very easy and interesting experiments. He also laid emphasis on practical knowledge and stressed on strength, weakness, opportunities and threats of our life, so that we can easily frame our goal. He explained the concept of centrifugal and centripetal forces acting on bodies & grabbed attention of audience by forming waves on spring and hence explaining the concept of various harmonic modes. He also made audience understand about acoustic waves formed in an organ pipe. Further he elaborated concept of coriolis forces exerting on flames of fire, pebbles of different masses in water etc & also elaborated concept of resonance of frequencies by using tuning forks. Experiments involving fire, water, spring were very eye catching and developed curiosity among students. 
Principal Prof. (Dr.) Atima Sharma Dwivedi averred that the workshop indeed turned out to be valuable and fruitful for all the aspiring students. It broke the barrier between theory and practice by creating a vibrant atmosphere where learning happens through hands-on projects. Madam Principal lauded the efforts of PG Department of Physics for holding such workshops.