Webinar on role of institutions of higher learning during covid-19
The event organised by PCM SD College for Women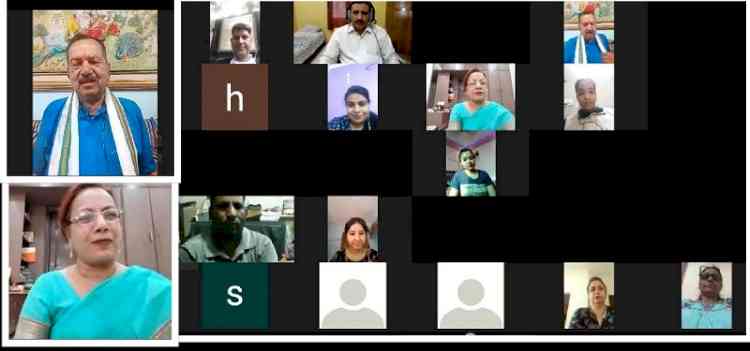 Jalandhar: PCM SD College for Women, Jalandhar organized a webinar on "Role of Indian Education Institutions of Higher Learning during COVID-19". This lecture was organized to commemorate 137th birth anniversary of Veer Savarkar known as Vinayak Damodar Savarkar. A video was shown on this occasion in which Late Prime Minister Atal Bihari Vajpayee in his speech highlighted the multifaceted personality of Veer Sarvakar through his revolutionary poetry. He said that Veer Sarvakar was not only a freedom fighter and politician but also lawyer, writer, social reformer and formulator of the Hindutva philosophy.  
The Chief Guest for the Day was Indresh Kumar, Akhil Bhartiya Karyakarni Sadasya (RSS). He delivered the presidential address on the occasion and said that this Corona Virus is not a natural virus but it is a man made virus. He highlighted that there is so much of hue and cry in the so called developed nations due to this pandemic but for the developing country like India its religious and social principles and traditions have helped India in protecting itself from such virus. He further said that if we compare the recovery rate of India from the Corona Virus, it is about 82% where as this rate varies between 22% to 24% in other nations. The reasons for such higher recovery rate in India are mainly due to good immunity amongst its citizens, balanced food pattern, exercise, yoga and meditation. He also expressed that if a man wants solace in life then he is to free himself from the greed to grab 'more' and must focus only on the 'essentials' of life. He further said that happiness in life is possible when one talks about our nation, our country and our world. The human shall have to discard the concepts like 'I', 'me' and my family etc. So he felt that teachers could play an important and positive role in putting forward – the principles, traditions and ideology of India before the whole world.
Dr.(Mrs.) Kiran Arora, Principal of the college also reiterated on the vedic mantras as explained by Hon'ble Sh. Narendra Modi, Prime Minister of India from time to time. In the end, she delivered vote of thanks and expressed her gratitude towards Indresh Kumar for acceding to her invitation and sparing time at such a short notice.
On this event,. Vijay Nadda, Sangathan Mantri of Viday Bharti North Zone actively participated. The webinar was also attended by  Ramesh Sharma, Ex President, BJP, Jalandhar, Raghunath Chadha,   Co-treasurer, ABVP, Bhimsen Chadha, Secretary RSS, Jalandhar Rajeev Sharma, General Secretary, Shekhar Bharti, Punjab Sandeep Chadha, District Programme Co-ordinator, NYK, Narendra Sharma, Head, Publication Deptt, Sarvhitkari, Sushil, Sampark Pramukh, Jalandhar Vibhag and Ajay Dutta from PTU. It was attended by nearly 180 delegates and webinar was a grand success.