Webinar on "GM Crop Regulations: Scope and Opportunities using CRISPR-CAS9 Genome Approach"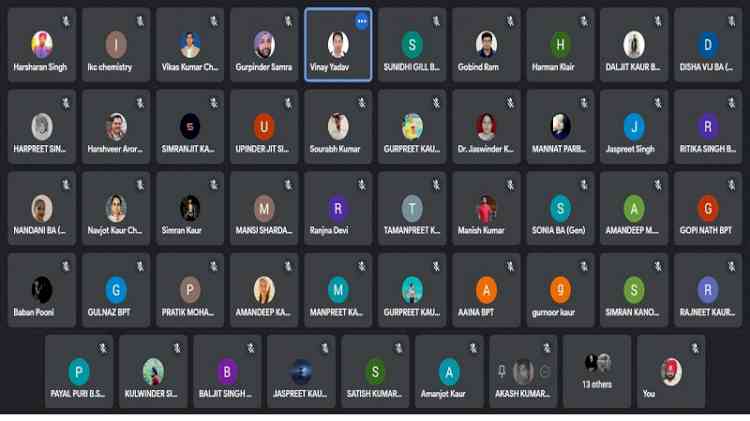 Jalandhar, October 11, 2021: A webinar on the topic "GM Crop Regulations: Scope and Opportunities using CRISPR-CAS9 Genome Approach" was organised jointly by the Department of Biotechnology and Balbir Singh Centre for Sciences, Lyallpur Khalsa college Jalandhar. 
Dr. Vinay Kumar Yadav from the Central University of Bathinda Punjab was the key resource person. 
The webinar initiated with the inaugural note by respected Principal Dr. Gurpinder Singh Samra and Dr. Harsharan Singh, the coordinator of the webinar. 
More than 150 participants were registered for this webinar from different regions of India. 
The resource person of the event Dr. Yadav explained about the use of latest gene editing technologies available for research and development and explained the use of CRISPR CAS9 in gene editing for disease resistance, better trait, higher yield in plants. He explained that these technologies are going to be very beneficial for the farmers and community. Further, he discussed about the regulation and policies associated with the gene editing technologies, transgenic techniques in plants with its current scenario in the world. These can answer the major problems faced by the farmers and make them economically empowered. 
Dr. Gurpreet Singh and Prof. Gobind Ram presented the vote of thanks and acknowledged the encouragement and support from the Governing Council and Principal of the college. 
On this occasion, Prof Arunjit Kaur, Dr. Jaswinder Kaur, Dr. Vikas, Dr. Harshvir, Dr. Upma, Dr. Geetanjali Moudgil and other faculty members from different department were also present. 
Organising committee duly acknowledged the support and logistics provided by Dr. Manohar Singh, Prof. Gagandeep Singh and Prof.  Sandeep Singh.