Webinar on entrepreneurship in crafts and design held
Dr Sucharita Sharma, Director, Apeejay College appreciated the spirit of department and students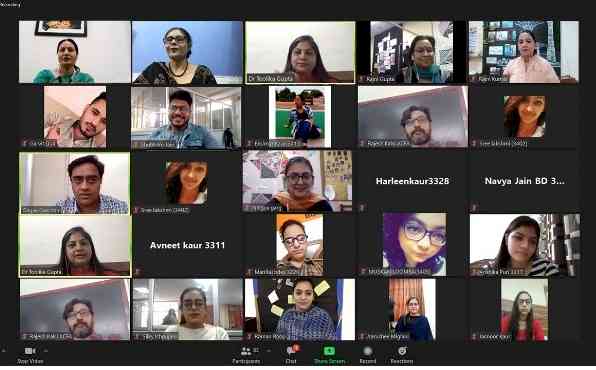 Jalandhar: A Webinar on Entrepreneurship in Crafts and Design was organized at Apeejay College of Fine Arts, Jalandhar collaboratively by the Department of Design and Entrepreneurship Development Cell of the college. The Resource Person of the day was Dr. Toolika Gupta, Director, Indian Institute of Crafts and Design, Jaipur. The lecture largely focused on promoting craft and design and conveying entrepreneurial skills to the students to make them successful in their profession. She insisted that nowadays, we need to look crafts as great businesses as they used to be once upon a time. This will increase employment in the traditional craft sector, craft tourism and help in making of high-quality products and branding of regional crafts. She stated that for the beginning of any entrepreneurial project - innovation, quality, authenticity, sustainability, process and research is very important

Dr Toolika interacted with students and answered their queries. She encouraged them to participate in competitions and also sell their products on various online sites. More than 85 students from the Department of Design and EDC participated in the webinar.

Dr Sucharita Sharma, Director, Apeejay College appreciated the spirit of department and students for conducting and participating in this webinar. She added the interaction with the experts will help the students to enhance their perceptions and help them in growing in the chosen field.