UIET student develops low cost touchless hand sanitizer
This machine was presented by Arjun Mittal to VC, Prof. Raj Kumar today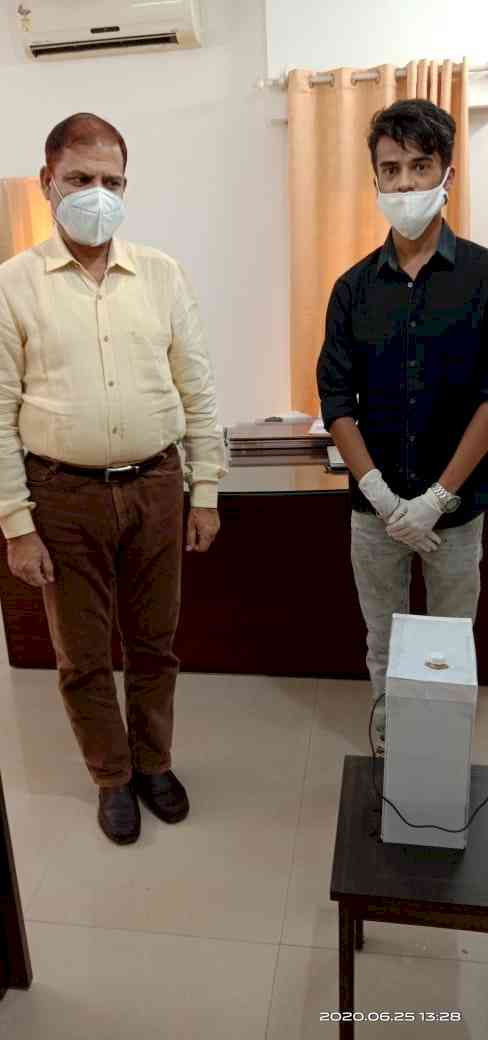 Chandigarh: Second year Mechanical Engineering student of UIET Panjab University Chandigarh, Shri Arjun Mittal, has developed a very low-cost touchless machine to dispense hand-sanitizer. Total cost of all consumables in this machine is just Rs 500/-. This machine is instrumented with an active IR (Infra Red) sensor, a small pump and one transistor. Shri Arjun Mittal has not used any microcontroller in this machine but has instead used a transistor as a switch to operate a small pump based upon the signal of an active IR sensor.  
Active infrared sensors both emit and detect infrared radiation. Active IR sensors have two parts: a light emitting diode (LED) and a receiver. When an object comes close to the sensor, the infrared light from the LED reflects off of the object and is detected by the receiver. Active IR sensors act as proximity sensors, and they are commonly used in obstacle detection systems (such as in robots).
In this machine, whenever a user places his/her hands in front of the active IR sensor, a pump placed inside the machine starts operating and sanitizer is released. This machine is housed inside a transparent Acrylic body. Panjab University has 78 departments and 15 centres  at the main campus in Chandigarh. If on an average 2 such automatic hand-sanitizer dispensing machines are placed in each department/centre, then 186 such machines will be required. At the rate of Rs 500/- per machine, in just Rs 93000/- the entire campus of PU can be provided this machine at required locations.
This machine was presented by Shri Arjun Mittal to Vice-Chancellor, Prof. Raj Kumar today.