Three arrested with 1.5 kg heroin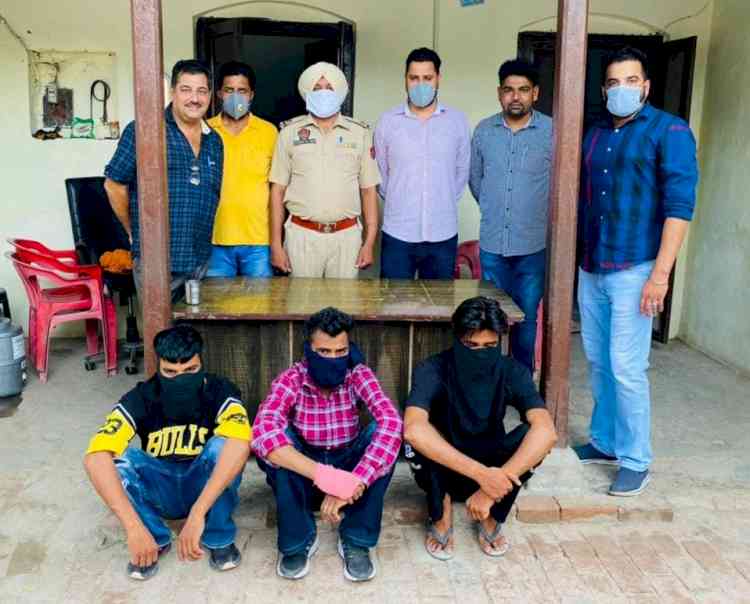 Ferozepur, September 7, 2021: In a major success, sleuths belonging to Narcotics Control Cell (NCC) have arrested three inter-state drug peddlers and have recovered 1.5 kg heroin worth Rs. 7.5 crores from them. Besides, two mobile phones and a bike has also been recovered. 
Giving details, Rajpal Singh SSP said that following the inputs the sleuths belonging to NCC had laid a trap to nab the accused Wirk alias Vicky, Moura, Sandeep alias Billa (all residents of Village Khalchian Jadid), Gora resident of village Lakho ke Behram and Thomas resident of Basti Bhatian in the city area. "We had received a tip-off that these accused were involved in the smuggling of drugs. Following the tip-off a naka was laid following which three of the accused identified as Vicky, Moura and Gora were arrested while they were coming towards the city area on a bike (PB 05 AL 2574). During the frisking, 1.5 kg heroin worth Rs. 7.5 crores was recovered from them", said SSP. 
"The police has launched a manhunt to nab the two other accused Thomas and Sandeep, who were involved with them in this illicit trade of drugs", said SSP Rajpal. 
Sources revealed that due to unemployment during the Covid period last year, these youths chosen this path. "Their main leader is Vicky who has been registered under several cases at various police stations. The other joined him in order to make some quick bucks. These accused had hired a house in the city area for the planning of their operations and they used to sell the heroin in small pouches. Now the police is investigating the matter to ascertain their links in Pakistan", said SSP. 
A case under sections 21,29 NDPS Act was registered against the accused at city police station (FIR No. 269 dated 06.09.21)