School of Engineering and Technology lifts Overall Trophy of CT University Athletic Meet
Paramvir Singh and Jasmine Kaur bags the title of Best Athletes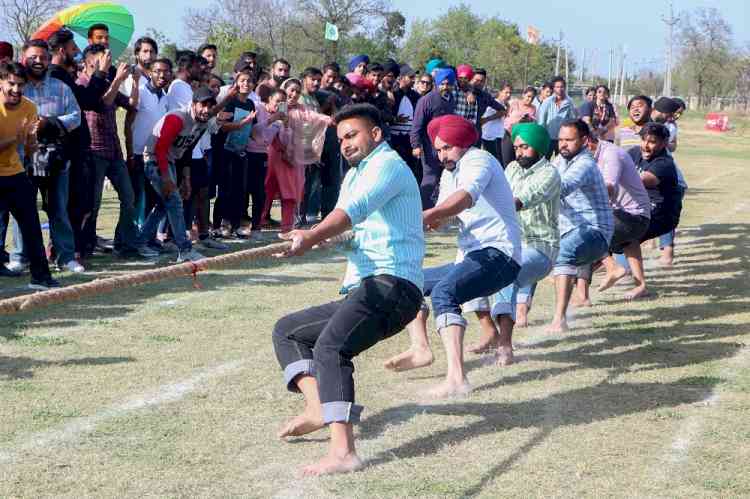 Ludhiana, March 11, 2022: The sports ground was filled with zeal, excitement and sportsman spirit as the students and faculty marked its two-day 5th Annual Athletic Meet organised by Department of Sports. The meet was inaugurated by Charanjit Singh Channi, Chancellor, Dr Harsh Sadawarti, Vice Chancellor, Deputy Pro Vice-Chancellor Dr. Hemant Kumar Sharma and Registrar Sarabpreet Singh. This year annual athletic meet was dedicated to the completion of 25 years of CT Group in the field of education.
Students from all the schools participated in various events like 100m race, 200m, 400m race, 800m race, 1500m Race, 3000m, 5000m race, Long Jump, Relay, Shot Put, Tug of War, Discuss Throw and Javelin Throw for both girls and boys. The day started with full enthusiasm of individual school March Past.
The students took an oath in full spirit and displayed immense enthusiasm. School of Engineering and Technology lifted Overall Trophy of CTU Athletic Meet. School of Pharmaceutical Sciences remained first runners up whereas School of Humanities and Physical Education bagged second runner up title.
Paramvir Singh of SOET bagged the title of Best Athlete - Men and Jasmine Kaur of SPS remained Best Athlete - Women.
Dr Harsh Sadawarti, Vice Chancellor, CT University and Dr Praveen Kumar, Directorate Sports, while congratulating winners said, "Every year through Athletic Meet, we witness a new potential with spirit of sportsmanship. Students put their best efforts in showcasing their talents. The annual meet is a fruitful activity. I congratulate the winners and the participants."