Punjab Youth Development Board starts "Covid Helpline"
Krishna Charitable Hospital announces free medical counselling service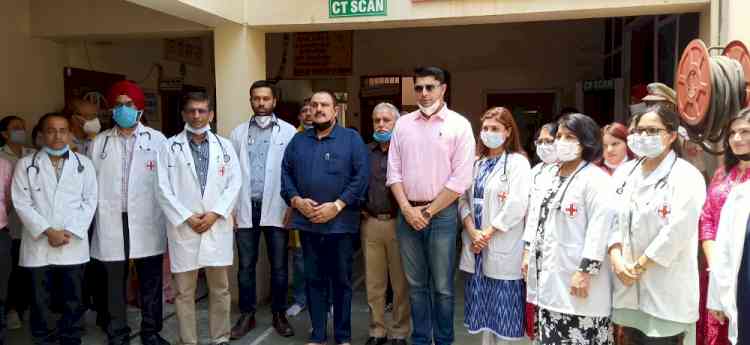 Ludhiana: For the benefit of youth and to make Mission Fateh of the Punjab government successful, the Punjab Youth Development Board has started Youth Development helpline to help them depression, anxiety, stress management during the COVID 19 pandemic. While appreciating the efforts of Punjab Youth Development Board in this regard as well as Mission Fateh, the management of Krishna Charitable Hospital have decided to provide free medical counselling service for this helpline.
While speaking on the occasion, Punjab Youth Development Board Chairman Mr Sukhwinder Singh Bindra informed that the youth can send a text message/whatsapp on the helpline number 95772-00003 from 10 am to 5 pm. He said that counselling on this helpline is being done by reputed health experts. He informed that Krishna Charitable Hospital have deputed a panel of 9 doctors for this purpose.
On this occasion, Mr Bindra thanked Hospital Management Committee president Mr Khushbakt Rai Aplish and his entire team for always supporting the initiatives of the Punjab government. He said that the Punjab Youth Development Board is committed for the welfare of the youth of the state and with regard to the ongoing lockdown/curfew, several initiatives have already been taken by the Capt Amarinder Singh led Punjab government.
Mr Bindra informed that Punjab Youth Development Board also distributed more than 1000 PPE Kits to Healthcare workers, free ration to Needy (more then 2000 Aata bags), coordinated with Shaheed Baba Deep Singh Gurudwara sahib committee to prepare and pack langar for more than 2000 people daily & given to police for distribution. Mr Bindra has already donated his one month salary for CM COVID Relief Fund.
He informed that all board members and all district coordinators are working in their respective areas in this time of crisis. "Our full team is committed for the welfare of the state with the vision and leadership of Chief Minister Capt. Amarinder Singh. This all was done by our board in this time of crisis & now opened Helpline for the Youth of the State. For the development of Youth of State & also advisories been given from time to time to be Safe & together fight against the Covid 19 to break the chain," Mr Sukhwinder Singh Bindra added.