PU volunteers acting as backbone during covid 19
Amidst COVID-19 pandemic outbreak, around 270 stranded labourers were traced in sector 14 and 25 of the Panjab University campus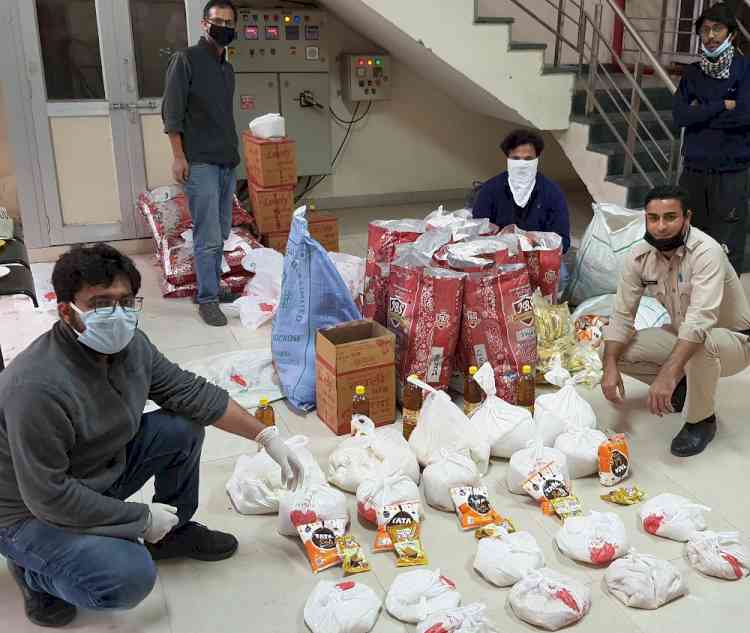 Chandigarh: 
Amidst the coronavirus (COVID-19) pandemic outbreak, around 270
stranded labourers were traced in sector 14 and 25 of the Panjab
University campus with little or no ration left with them. These
labourers belong to the state of UP, Chattisgarh and Bihar etc. They
are left with no money and they were clueless as there was no scope of
getting out or availing anything inside the campus.
The team of student volunteers from Centre for Social Work, Panjab
University consisting of Shubham , Narendra Singh and Sukhdev Singh
traced them informed Dr. Gaurav Gaur, Assistant Professor, Center for
Social Work who  coordinated the whole campaign.
He shared that with the coordination and support of donors, initially
cooked food twice a day was served to all these people for few days by
these volunteers.  Today, they were provided with packets of dry
ration to them which included the following items like rice, wheat
flour, Sugar, mustard oil, salt, cereals and turmeric.
While appreciating the efforts of all these volunteers, Gaur said that
unity binds us and we all stand strong in this time of such adversity.
He said that we are trying to follow the core value of Social Work
which Service and volunteers have proved it so far, so well.