PU Professor to present research at American conference
Dr Kewal Krishan will be presenting two research papers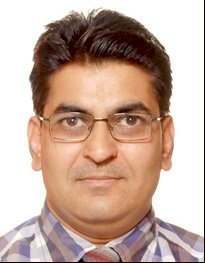 Dr. Kewal Krishan, Associate Professor and Chairperson of the Department of Anthropology, Panjab University, Chandigarh.
Chandigarh: Dr. Kewal Krishan, Associate Professor and Chairperson of the Department of Anthropology, Panjab University, Chandigarh, will be presenting two research papers at 72nd Annual Scientific Conference of American Academy of Forensic Sciences (AAFS) to be held at Anaheim, California, USA from 17 – 22 February 2020. Both the papers deal with personal identification in forensic examinations. AAFS is the largest forum of forensic scientists in the world which is attended by more than 5000 scientists and students every year.
There is always a need to identify the human remains in forensic examinations as well as in mass disasters. In some forensic cases and man-made/natural disasters, the skeletal remains of the dead bodies are available for forensic examinations. In these cases, the main objective of the forensic scientists is to identify the deceased from the remaining bones and available teeth.
 Dr. Krishan is going to present the research pertaining to human teeth and cranium conducted with the help of his students Dr. Sandeep Kaur and Dr. Preetika Mishra respectively. Both the students completed their PhD under Dr. Krishan's supervision. The research papers entitled "A study of non-metric dental traits of a north Indian population- forensic aspects" and "Frontal versus basal region of cranium: A comparison of the best sex prediction parameters using Discriminant Function Analysis" have been accepted by AAFS for presentation.
 Both the studies were sponsored by University Grants Commission, New Delhi. Now, the Department of Science and Technology, Govt. of India awarded a travel grant to Dr. Krishan for presenting this cutting edge research in this prestigious conference. In this conference, 5 significant researches are being presented by Dr. Krishan' research team and lab mates. Dr. Krishan is hopeful that a discussion will be initiated on these researches by the international and well-known forensic scientists that will really help him and his research team in more impetus for such kind of research in India. 
Dr. Kewal Krishan is a renowned forensic scientist who focuses his research on developing new methods of forensic identification from human morphological knowledge especially in north Indian population. Dr. Krishan published more than 200 papers in the international journals of repute. He has more than 6000 citations of his research work. He recently contributed invited chapters to the most coveted Encyclopedias of Forensic Sciences, Legal Medicine and Archaeological Sciences published by Elsevier and Wiley, USA.