OPA celebrates 71st Republic Day in Ludhiana
National flag unfurled by OPA president Parveen Aggarwal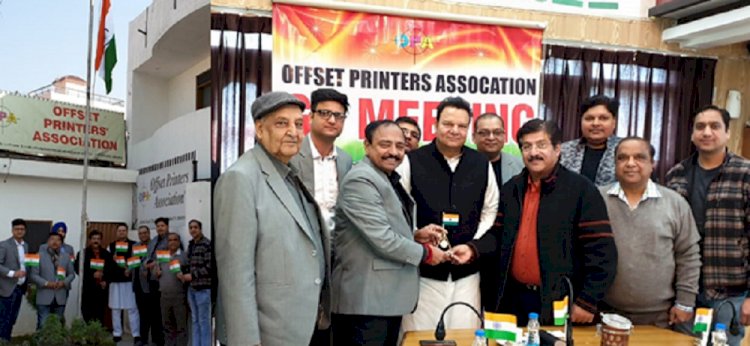 National flag was unfurled by the President OPA (left) Symbol of Prosperity presented to Mr. Parveen Agarwal for his dedications towards printing and packaging industry (right) in Ludhiana on Sunday.
Ludhiana: The 71st Republic Day was celebrated by Offset Printers' Association (OPA) at its office at South City, Ludhiana. National flag was unfurled by Mr. Parveen Aggarwal, President of OPA and after reciting national anthem sweets were distributed. Speaking on the occasion Prof. Kamal Chopra, General Secretary OPA said, it is the time to remember our heroes who were instrumental for the independence of our nation. It is the time to pay homage to all known and unknown stalwarts who sacrificed their life so that we can live peacefully in an independent country. It is therefore to celebrate the national days is the prime objective of OPA, Mr. Chopra added.

In his address Mr. Parveen Aggarwal said, Republic Day is celebrated annually as it is the anniversary of the day India became an independent republic. Though India's declaration of Independence was signed on 15th August 1947, the constitution which was written for independent India came into the effect on January 26, 1950. Republic Day honours the date on which the Constitution of India came into effect replacing the Government of India Act (1935) as the governing document of India. I am glad that we are here to celebrate the day, printers are the custodians of India's colours, and our wishes are that our tricolour must fly high so that we can live with prestige in our beloved country.
As a mark of respect and for the dedications of Mr. Parveen Aggarwal towards development of printing and packaging industry a special symbol of prosperity was presented to him by the members of the association on this occasion.