Award of Excellence for Kamal Chopra
FICO felicitates Prof. Kamal Chopra on eve of 71st Republic Day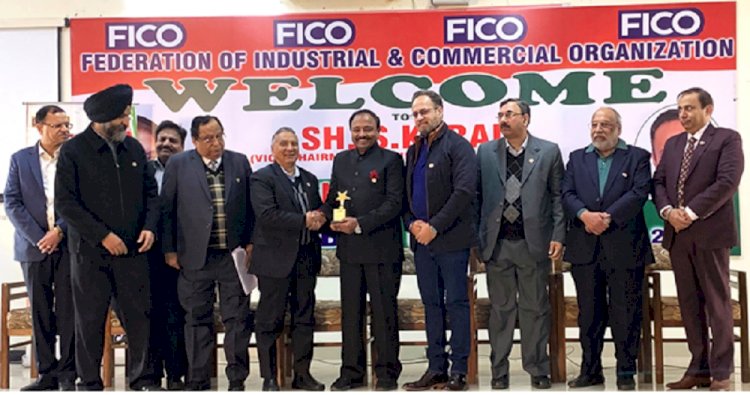 FICO felicitates Prof. Kamal Chopra on the eve of 71st Republic Day at Ludhiana on Sunday.
Ludhiana: Federation of Industrial & Commercial Organization (FICO) felicitated Prof. Kamal Chopra on the eve of 71st Republic Day on 26th January, 2020. As per their routine FICO celebrates the republic day every year to pay homage to known and unknown heroes who were he instrumental for independence of our country. The brief but glittering ceremony was organized at the office of MSME-DI, Ludhiana in the presence of members and other industrialists of the city. With a member strength of more than 1900 from all parts of India, FICO is a federation of trade and industry with a mission 'FICO serves trade & industry, Trade & industry serve the Nation'. 

Presenting the 'Award of Excellence' Mr. K K Seth, Chairman of FICO said, Prof. Chopra is the fine and clear example of what one can achieve with determination, sincerity and hard working. In recognition of his services towards printing industry, especially International Print Education, the Beijing Institute of Graphic Communication, China designated Mr Kamal Chopra as Honorary Professor of BIGC-world's largest Printing University. It is for the first time ever that such a felicitation if given to a printer in India. With his vision, he changed the style of thinking of printers and has given a new shape to printing and packaging industry of India. 
Speaking on the occasion, Mr. Gurmeet Singh Kolar President of FICO said, Ludhiana 'the Manchester of India' is famous world over for its industrial products and hosiery industry. The industrialists of Ludhiana proved their worth several time at every nook and corner of the world. Today we feel proud to confer the 'Award of Excellence' to Prof. Kamal Mohan Chopra for bringing Ludhiana to international map in the field of printing and packaging industry also.