Online training of doctors for new MBBS curriculum at CMC
MCI nodal centre for faculty development CMC, Ludhiana is training 40 faculty of various medical colleges of India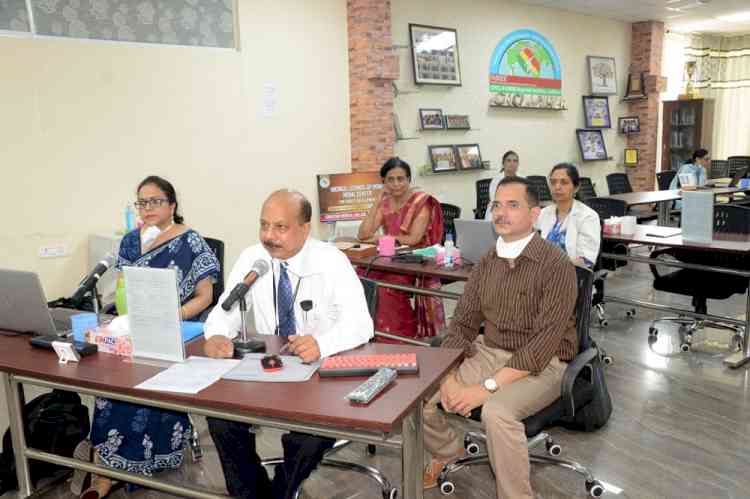 Ludhiana: MCI nodal centre for faculty development CMC, Ludhiana is training 40 faculty of various medical colleges of India in online 2-day Curriculum implementation support program (CISP) phase 2 for new MBBS curriculum. 
Dr. William Bhatti, Director, CMC inaugurated the program along with Dr Jeyaraj D Pandian, Principal, CMC. Dr. Bhatti informed that CMC has been training the faculty of medical colleges for better implementation of the new MBBS curriculum and online training has been started due to COVID-19. Dr. Pandian welcome all the participants who joined online. He added that team of CMC has been trained online by MCI and this team will online train faculty of medical colleges allocated to MCI Nodal centre, CMC. 
Dr. Dinesh Badyal, Professor, Department of Medical Education & Convener of MCI nodal centre informed that CISP phase-2 training was halted due to COVID-19. However, as new MBBS curriculum has been implemented in India in 2019, the new batch will enter 2nd year and the faculty of medical colleges is being trained online. In 2019, CMC trained approximately 900 faculty of various medical colleges for CISP phase-1 training. The CISP-2 being conducted is the first online faculty development program for allocated colleges using all the social distancing norms by resource faculty. Dr. Badyal is National Convener, CISP conduct and Member, MCI expert group for implementation and monitoring of new curriculum. He added that continuity of doctors training is required for proper implementation of new MBBS curriculum. 
Dr. Anjali Jain, Co-convener and incharge CISP added that the online methodology being used includes interactive sessions, breakout sessions where the large group is divided online into small groups for the group activities and online skills training. She added that program evaluation is being done online. Each college has made all arrangements for online sessions and they have been trained by MCI nodal centre, CMC in using online platform before the actual program. The unique aspects included online role plays, video generation of labour management, use of online clickers, teaching and assessment in COVID times. 
The program faculty included Dr Badyal, Dr. Anjali Jain, Dr. Monika Sharma, Dr. Bharti Uppal, Dr. Roma Issac, Dr. Kavita Mandrelle, Dr. Pamela K. Alice, Dr. Aroma Oberoi, Dr. Gagandeep Kwatra, Dr. Maria Thomas, Dr. Christina George, Dr. Clarence Samuel, Dr. Suchitra Deolalikar, Dr. Deepshikha Kamra, Dr. Ajay Kumar. All the faculty is well trained in higher course in medical education including online conduct of training programs. CMC runs two higher educational faculty development centres that trains medical faculty from South East Asia countries. This includes CMC's collaboration with FAIMER (Foundation for advancement of international medical education & research), Philadelphia, USA represented by CMCL-FAIMER Regional Institute and MCI Nodal centre for faculty development.