NSS National Award for PU Student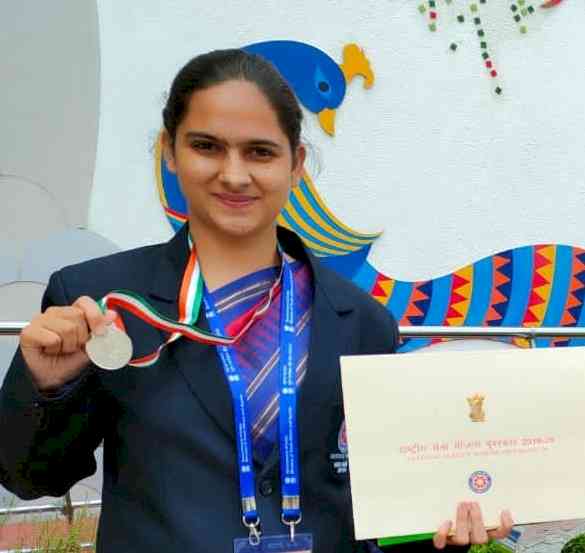 Ms Ritika Verma with the National Award.
Chandigarh, September 27, 2021: Panjab University outgoing student of Department of Anthropology, Ms. Ritika Verma, was conferred with a National Service Scheme Award, 2019-20, on 24th September, 2021 at New Delhi by the Honourable President of India, Shri Ram Nath Kovind in presence of Honourable Minister for Youth Affairs and Sports Shri Anurag Thakur, in a virtual mode. She happens to be the first student from Panjab University Campus to get this prestigious national award.
            Ms Verma was selected for this prestigious national award as she provided her services on various social issues and causes as NSS volunteer attached to Panjab University, Chandigarh. She along with her team, organised various activities for sensitising students on Swachhta, menstrual hygiene management, solid waste management and water conservation etc. She contributed in plantation of saplings and cleanliness drives in the adopted village. Her activities in creating awareness in gender sensitisation, literacy campaign, health awareness camps etc. were commendable. She received Swachh Bharat Summer Internship Award at the State Level twice in the years 2018 and 2019. She was also awarded with the Best Volunteer Award by the Panjab University in 2017-18 in recognition of her exemplary and commendable Social Service through NSS.
            This is a proud moment for her parents as she is among the fourteen women out of total 42 national awardees selected across the country. After receiving the award, she was warmly welcomed by more than 100 people in her village near Chandigarh. Ms. Verma thanked Dr. (Mrs.) Navdeep Sharma and Prof. Ashwani Koul, the NSS Coordinators, Panjab University for motivating and encouraging her for the service. She is also grateful to NSS Programme Officer Dr. Sucha Singh and Er. Binesh Bhatia along her academic guide/supervisor Prof. Kewal Krishan for all support and guidance in her proud journey.
            Ms. Verma has also excelled in academics and research as she recently worked on a very important topic of "Impact of COVID-19 pandemic on the science and scientific temper of adolescents and young adults". We are planning to submit the outcome of the research in an international journal of repute for publication, added Prof. Kewal Krishan, Supervisor of her MSc Dissertation from the Department of Anthropology, Panjab University, Chandigarh.