Mahilla kavi sammelan 2020 held at PU
The audience reluctantly bid adieu to the mehfil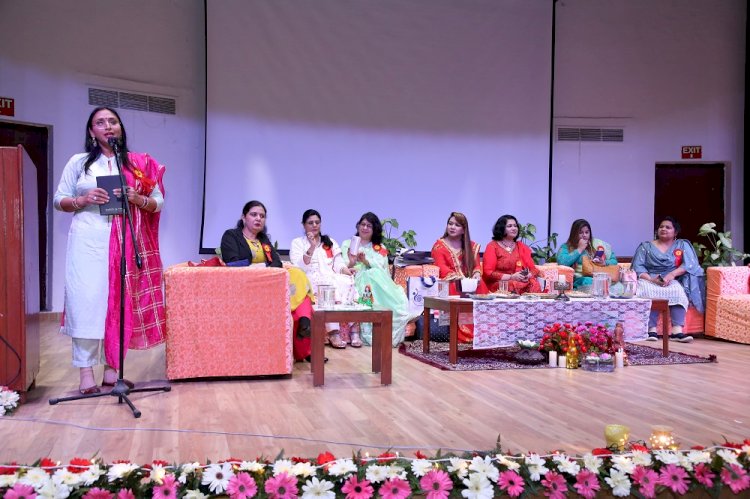 Chandigarh: Panjab University Alumni Association, under the stewardship of Prof. Deepti Gupta, Dean, Alumni, in order to commemorate the occasion of International Women's Day organized a Mahilla Kavi Sammelan, here today. The event saw the likes of Ana Dehalvi, Namita Rakesh, Sarita Jain, Sunita Raina, Saba Aziz, Anita Anand, Babita Kapoor, Isha Naaz, and Mamta Kalra. The event was hosted by Mr Shams Tabrezi, the Master of Ceremonies and saw an enthusiastic attendance from the shayari savants.
Also in attendance were Jagmohan Singh Kang, politician and member of the Indian National Congress. Mamta Kalra enthralled the audience with her renditions on Lord Krishna and dohas invoking the earthiness of the farmer community and their affection with Mother Nature. This was followed by Babita Kapoor, a theatre thespian who mesmerized the audience with her somber nazms on solitude and remembrance to women's fortitude and treachery of men towards them. Anita Anand charmed the audience with her ghazals on daughter's well- being and happiness to the quintessential heart break to the frolic of Holi. With her roots in Kashmir, Sunita Raina with her poetic renditions ranged from invoking God to materialism corroding relationship to lovers courtship and infidility. Saba Aziz from Delhi enthralled the audience with nazms attributing women's feebleness to a fresh blossomed rose in Garden of God to women's potency to God's resilience itself. Isha Naaz with her poetic eloquence mesmerized the audience with her poetic compositions alluding to Razia Sultan and Jhansi ki Rani with the war cry to women of "hum to kamzoor na samjhe duniyawale". Sarita Jain celebrated womanhood with her nazms of women riding the wind and touching the zenith of heaven. The audience was enthralled and mesmerised by Ana Dehalvi with elegant and powerful verses like Phoolon ko Kanto Par Chalna Padta Hai, Ishq na Karna Aag Mein Jalna Padta Hai and Namita Rakesh on her shayari on women's love and strength to sustain it.
The Ladies Rotary Inner Wheel representatives Miss Rekha and Dr. Indu Luthra gave out tokens of appreciation to Prof. Deepti Gupta and the poetesses honoring their art and their dedication to it.
The audience reluctantly bid adieu to the mehfil made poignant by the stalwarts of Urdu shayari.