Magic World programme held for slum children by Pinky Soch Badlo Trust
Sukhdev Singh Dhindsa inaugurated the show, Anita Shabdeesh presented theatrical play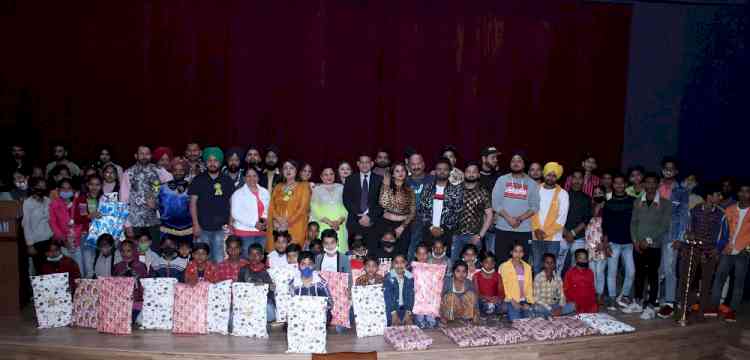 Chandigarh: Pinky Soch Badlo Trust, in association with Future Plus Event Managers organized a Jadunagari (The Magic World) show for the slum children at Law Bhawan, Sector – 37, Chandigarh.
The programme was inaugurated by chief guest Sukhdev Singh Dhindsa, Member of Parliament (MP), Rajya Sabha. Dr Anmol Rattan Sidhu, Senior Advocate was also present on the occasion as the guest of honour.
A play 'Je Hun Vi Na Bolle' was staged under the direction of Anita Shabdeesh, Director, Suchetak  Rangmanch. It was followed by a magical performance 'Jadunagari' by Jatinder S Babbar and Gurdeep S Babbar. The programme was thoroughly enjoyed by the kids and others.
Pinky Sandhu alias Pinky Moge Wali, founder, Pinky Soch Badlo Trust, said, "The show was specially planned for slum children for their entertainment and awareness. Around 100 slum children were given gifts and refreshments on the occasion. Life is to live, not to drag. I would like to thank Mr Dhidsa for the announcement of a donation of Rs 51,000."
Munish Sharma, Director, Future Plus Event Managers, said, "We often organize social events. Since slum kids hardly get such platforms, therefore, we earnestly joined hands with the Pinky Soch Badlo Trust."
Farmers protest was appreciated by the team. Pinky Sandhu while motivating the children, also expressed gratitude towards AS Mittal, Vice Chairman, Sonalika; Naresh Kumar, Canera Bank, Sector, 35, Chandigarh; The Babbu Maan Store; Karanjit Singh, Chairman, Bar Council; Adv Narinder Mahajan, Sukhbir Singh (Doordarshan), Surjit Kaur Sidhu (USA) Gagandeep Singh (Kanpur), Surjit Mann (USA),  Sarthi K (Punjabi Singer), Ali Brothers, Dilawar Sidhu, Mohit Verma, Vijay, Shallu (Anchor) ,Narbir Singh Bajwa and  Tejinder S Kajiwal and all.