LPU Student of TV and Film Production won National Short Film Competition
Government of India's Social Welfare Department has issued winning certificate to the creative LPU student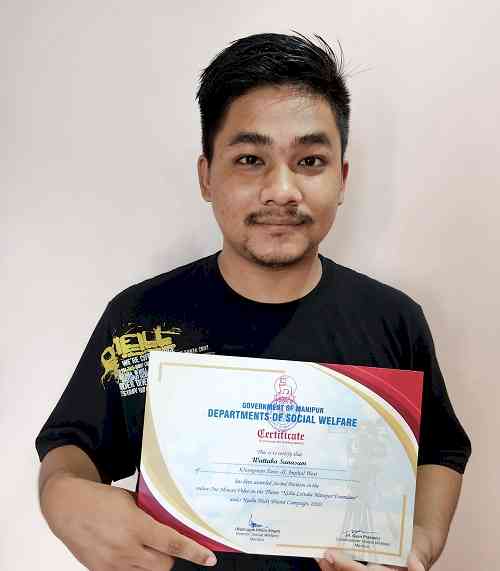 LPU student Wattaba Sanasam looking joyful on winning National Short Film Competition.
Jalandhar: LPU's  B.Design student of TV and Film Production programme has won National Short Film Competition. The Government of Manipur's Social Welfare Department has issued a winning certificate to the creative LPU student. The short film competition was based on the theme "Nisha Leitaba Manipur/Eramdam" under national 'Nasha Mukt Bharat Campaign- 2020'. Hailing from Manipur, B.Design student Wattaba Sanasam has been awarded second prize. Director Social Welfare of Manipur Ngangom Uttam Singh and Commissioner H Gyan Parkash honoured LPU Student.

"Nasha Mukt Bharat annual action plan (2020-21) for 272 most affected districts" was e-launched by Minister of State for Social Justice and Empowerment Shri Rattan Lal Kataria on the occasion of "International Day against Drug Abuse and Illicit Trafficking".

LPU Chancellor Mr Ashok Mittal has expressed that LPU always has great pride in its bright minds, who are ardently utilizing every opportunity to exhibit their skills even during these challenging times of Covid-19 Pandemic.

MoSJ&E (Ministry of Social Justice & Empowerment is the nodal Ministry for drug demand reduction which coordinates and monitors all aspects of drug abuse prevention. It assesses the extent of the problem, preventive action, treatment and rehabilitation of addicts, dissemination of information and public awareness. The short film competition was held in this context for social awareness and awakening of the common men and women.

LPU School of Journalism and Mass Communication is India's one of the best Journalism and Animation colleges which empowers and nourishes creative minds. It has a methodical curriculum that encompasses every aspect of industry including film-making and production, investigative journalism, animation films and more. Workshops, guest lectures, and exposure to live projects are an add-on to the curriculum. This all provides students with an insight into print, media, journalism, animation, multimedia, graphic design and film production.