KMV's new age programs receiving an overwhelming response for the admissions
KMV is a pioneer in introducing these programs for the students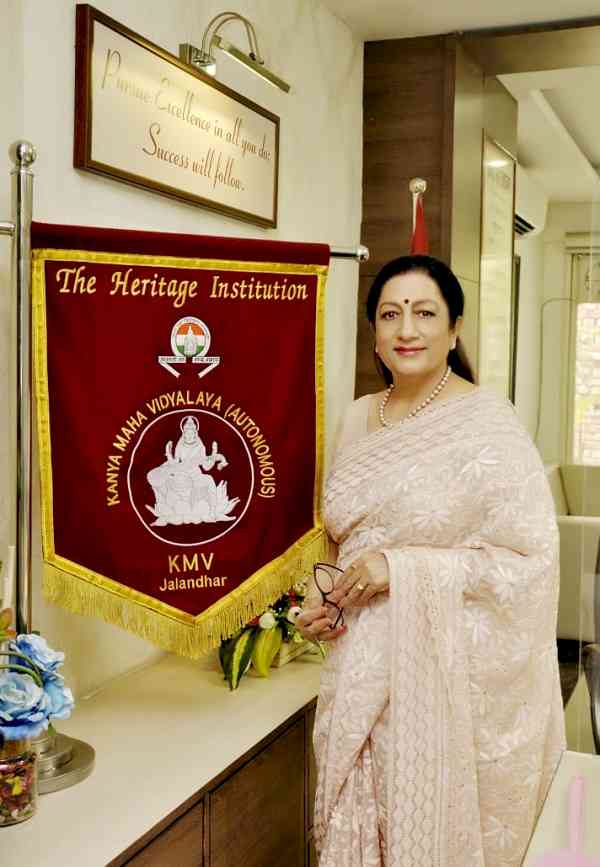 Jalandhar: Kanya Maha Vidyalaya has been first to introduce new age Programs of B.Com(Hons.), BA (Hons) English, B.Sc.(Hons.) Physics, B.Sc.(Hons.) Maths. Apart from this, two new courses has also been started under DDU Kaushal Kendra namely B.Voc. (Artificial Intelligence & Data Sciences) & B.Voc.(Hospitality & Tourism). All these innovative programs have received an overwhelming response from the students during the admission times as many students are opting for these new age programs for their studies. 
It is matter of fact that KMV is a pioneer in introducing these programs for the students. Throwing more light on the new age programs, Principal Prof.(Dr.) Atima Sharma Dwivedi averred that B.Com(Hons.), B.Sc.(Hons.) Physics, B.Sc.(Hons.) Maths, BA(Hons.) English, B.Voc. (Artificial Intelligence & Data Sciences) & B.Voc.(Hospitality & Tourism) are 3 year Degree Programs. As far as BA(Hons.) English is concerned, KMV is the only women college in this part of the region to introduce this significant program which equips students for employment in the fields of Education, Advertising, Human Resource Management, Journalism, Print and Electronic Media, Copy Writing, Editing Language, Training & Tourism while serving as strong foundation for Masters Degree in English and helping in qualifying exams like IAS, PCS, IELTS & TOEFL etc. B.Com(Hons.) is specially designed to prepare professionals in different fields such as Income Tax, Sales Tax, Financial Accounting, Banking Services and Computer Applications. These programs also help them in qualifying various tests and become CAs, Company Secretaries, Cost and Management Accountants & Financial Analysts. B.Sc.(Hons.) Physics grooms the students into inventive scientists and also enables them to become successful in a wide range of professions such as jobs in Indian Navy & Air force, Defense Services, Indian Administrative Services and other state and central government services where knowledge of science subjects is an advantage, careers in organizations, industries where a high level of competence is demanded as scientists in top research laboratories of India. B.Sc.(Hons.) Maths helps students to develop interpretive, analytical and logical skills required in the field of maths. After completing this program students can find placements in different fields such as Research Analyst, Actuarial Analyst, Software Analyst, Banking Officer, Scientist in DRDO and Bhabha Atomic Research Centre, Teachers & Mathematicians. B.Voc. (Artificial Intelligence & Data Sciences) grooms the students into data analyst, technical analyst, database administrator, business intelligence developer & research scientist etc. B.Voc.(Hospitality & Tourism) provides job prospects in hotel industry, aviation industry, tourism industry, event management & commercial services etc. Along with these courses, DDU Kaushal Kendra is also successfully running B.Voc. in Beauty & Wellness, Animation & VFX, Retail Management, Management & Secretarial Practices, Textile Design, Nutrition , Exercise & Health & Apparel Technology. 
Prof. (Dr.) Atima Sharma Dwivedi further maintained that under Autonomous status, KMV has taken a giant leap by placing itself into a higher league of colleges that enjoy the honor of uplifting academic standards towards excellence by developing new age innovative programs, value added courses, developing curriculum and bringing about educational reforms through conduct of examinations, evaluation and declaration of results. These programs have become favorite among students at KMV because of relevant syllabus at par with international standards & in accordance with global demand.