KMVites honoured by Municipal Corporation 
This program saw the sterling presence of many distinguished luminaries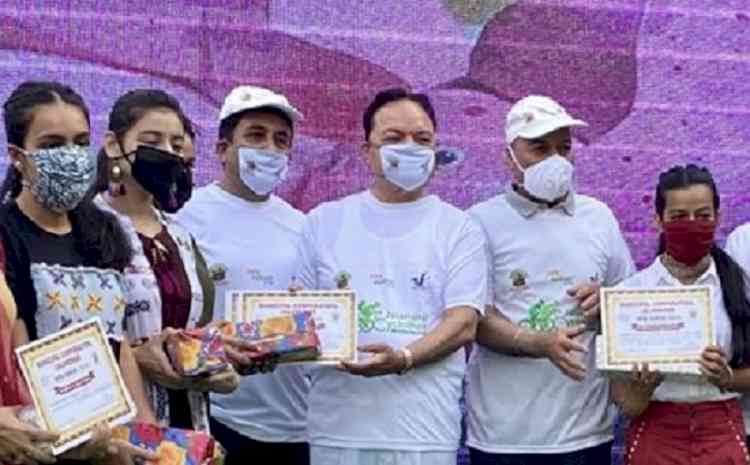 Jalandhar: Kanya Maha Vidyalaya participated in a district level function organised by Municipal Corporation Jalandhar to mark ending of a month long campaign based on the theme My Waste My Responsibility. 

During this initiative, students of KMV were honoured by Municipal Corporation Jalandhar for their participation in creating awareness in their residential and nearby areas for clean and green city and helping to inculcate a culture of positive and constructive disposal and management of waste. In the month  long online  activities, students showcased their innovative ideas and created social awareness about best out of waste under categories like plastic, kitchen, metal, rubber, cloth, paper and wood waste with emphasis on reuse, recycle and recreation. KMVites undertook special initiative to reuse coconut waste and create decorative and useful articles in  a productive manner. Principal Prof Dr Atima Sharma Dwivedi averred that KMVites have always been a forerunner in taking part in such meaningful initiatives. It is only through these activities that the younger generation could be made responsible towards their duty to their environment and society. Madam Principal lauded the  students and their mentors  Mrs. Harpreet, Head, Fashion Design Department and Mrs. Ashima Sahni (NSS In-charge). She further maintained that KMV will use its resources in a manner that does not compromise the ability of future generations to live sustainably on the planet. Municipal Corporation Jalandhar honoured students namely Harleen kaur , Ruchika Manpreet(M.Sc.Fashion Designing 1st Semester ) and Drishti B.Sc. FD Sem V. 

This program saw the sterling presence of many distinguished luminaries Member Parliament  Sh. Santokh Singh Chowdary, Sh. Jagdish Raj Raja, Mayor Jalandhar, Sh. Karnesh Sharma, Commissioner, Municipal Corporation, Mrs. Inayat Gupta, Joint Commissioner Jalandhar, SDM-I  Sh. Jai Inder  & SDM-II Sh. Ravi Sandhu.