KMV successfully concludes one week online National FDP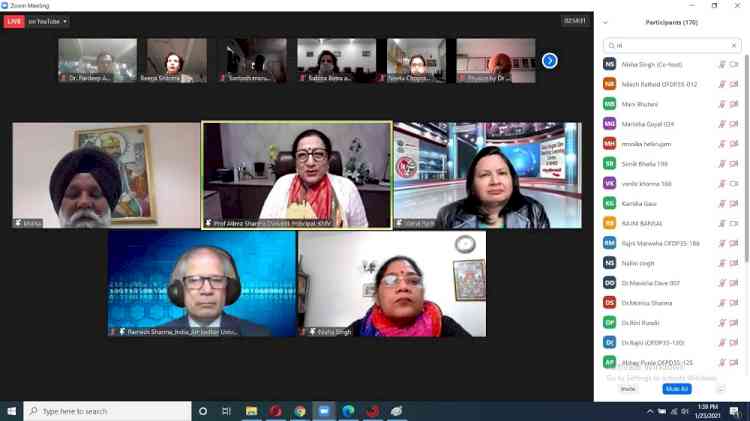 Jalandhar: Kanya Maha Vidyalaya successfully concluded  one week online national Faculty Development Program in collaboration with Guru Angad Dev- Teaching Learning Centre, SGTB Khalsa College, University of Delhi on Development of e-content & MOOCS in Four Quadrants sponsored by Department of Biotechnology, Government of India.  The chief guest for the  valedictory session was Prof Jaswinder Singh, Principal , SGTB Khalsa College, University of Delhi.          
Dr Singh addressing the audience appreciated the outstanding contribution made by KMV to the progressive education since its inception. Dr Singh said that it is very important that in this era of digitalisation, teachers who are considered to be as the nation builders should also be in synchronisation with the modern teaching pedagogies. He stressed on the importance of MOOCS and e-content in today's education scenario and also motivated every teacher to develop MOOCS for the students. He said that these kinds of faculty development programs should be organised more in the future so that teachers should be able to enhance their skills in order to impart quality based education to their students. Principal Prof Dr Atima Sharma Dwivedi during the valedictory session averred that KMV always strives to provide best education to its students and this FDP is one of the efforts that we have done in order to polish the skills of the teachers. Prof Dwivedi further maintained that it should be a prime motto of every teacher to adapt to the modern teaching practices so that they should be able to mentor the students in best possible way. The technical session for the last day of FDP was delivered by Dr. Nisha Singh, Deputy Director, Centre for Online Education (COE), IGNOU, New Delhi. The topic of her presentation was "Open Education Resources". Dr Nisha firstly defined this term and the concept of copyrighting.  She made a point that we should be very careful in citing and copyrighting. Throughout her presentation she has kept the participants encouraged to acknowledge the resources and introduced to various aspects of copyright. She also gave hands on training on ways to explore and navigate to various open resources. The first technical session ended with a very interesting and fruitful discussion. The topic for the second technical session was "Curation of OERs". The role of OERs was emphasised and the ways to curate the resources was explained beautifully. Dr Nisha explained the ways to get licence for of our work and the survey by KPMG-Google online was also shared showing the steep rise of online business in India. Dr Gurpreet Kaur also shared the detailed report of this one week online national FDP.
Dr Neetu Chopra gave Vote of Thanks to all the esteemed guests & participants. Madam Principal lauded the efforts of Dr Neetu Chopra, Dr Manju Sahni, Dr Pardeep Arora, Dr Archana Sahni, Dr Narinderjit Kaur, Dr Mandeep Kaur & the whole organising committee for successfully organising the program.