KMV organises Smart India Hackathon- Disha- 2022 to boost innovation culture among the students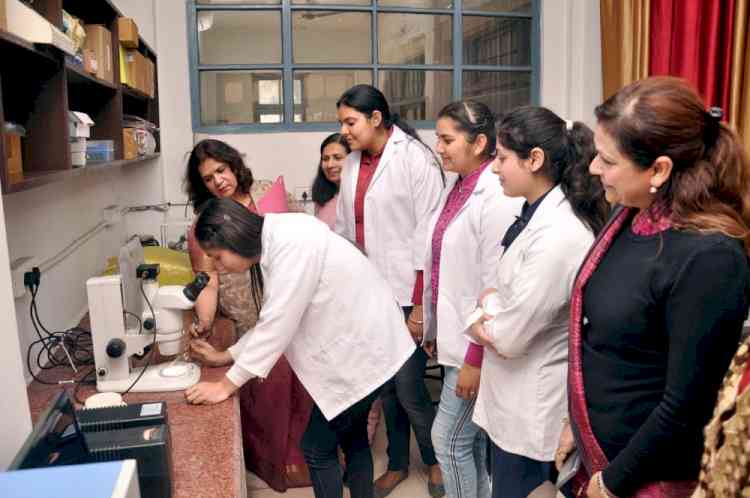 Jalandhar, March 25, 2022: Kanya Maha Vidyalaya (Autonomous) has always stressed upon innovations in science education for enabling smart and inclusive growth of students. Department of Sciences of KMV in association with KMV's Institution Innovation Council is constantly working in the directions of imparting science education through innovative teaching methodologies. 
In this regard an inter-department Hackathon named "Disha -2022" was organised. Hackathon was organised to boost the innovation culture among budding innovators and to further establish the idea-sharing, effective collaboration and creativeness driven by enthusiasm towards a shared goal. Disha- 2022 witnessed wide physical participation of 25 teams comprising of 150 participants from the institution. Hackathon pooled various innovative ideas to solve several society based problems like Disposal of used masks, Laser Security, Power crisis, touch-less sanitisers & touch-less attendance systems etc. All these activities have galvanised the hidden talent of students, built up their confidence, created awareness and enabled them to face future challenges of the world. Disha 2022 has encouraged students to think about the future, to tackle all the present issues that the world is facing and also suggest solutions through creative ideas and imagination. KMVites have put efforts to develop a kit for detoxifying the effect of Ethidium bromide which is used in Agraose gel electrophoresis while working in recombinant DNA laboratories & by using this kit we can overcome direct disposal of  EtBr containing gels into the environment. 
Principal Dr. (Prof.) Atima Sharma Dwivedi congratulated students for taking such innovative initiatives. She averred that science is the application of existing scientific knowledge to practical world. She further maintained that the aim of this activity was to develop adaptable, creative and motivated individuals who can take responsibility for their own learning and also work effectively in team for the betterment of the society. She lauded the efforts of Department of Sciences & Institutions Innovation Council of KMV for successfully organising the event.