Ivy World School-Sahodaya Inter-school Competitions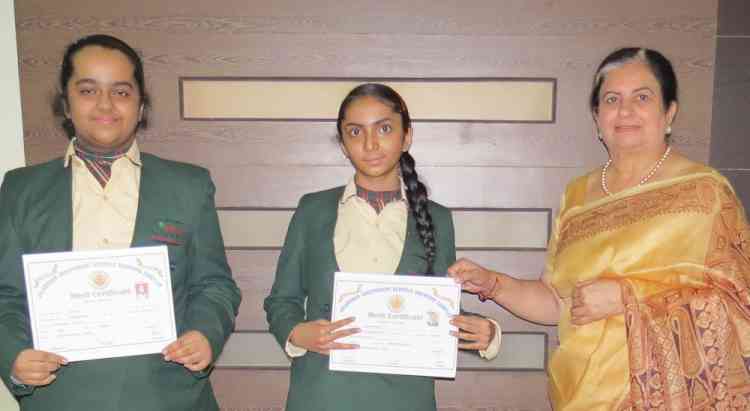 Ananya Chopra Harmehar Kaur with Principal Mrs. S Chauhan.
Jalandhar, December 4, 2021: Ivy World School, Jalandhar under the aegis of the Vasal Education Society sets up an example by ensuring holistic development of all children to rise to their full potential. To enable the students to showcase their brilliance the school gave them the opportunity to participate in Sahodaya Inter-school Competitions. The aim of these competitions was to let the children explore more and widen their horizons. The students exuberantly participated in them. It was a very knowledge enriching platform and three students of the school, Ishan of grade 7 bagged third position , little flower Swammini of Grade 2 got 1st position in Jalandhar Sahodaya Inter School Poem Recitation Competition and tiny tot Kulraj of grade 3, bagged third position in Jalandhar Sahodaya Inter School paper Origami art Competition. Harmehar Kaur of grade Eighth and Ananya Chopra of grade Seventh brought laurels to the school by securing Second position in the quiz competition. With their hardwork and never giving up attitude, these students have brought glory to the school.
 
The Principal, Mrs. S Chauhan acknowledged the efforts of the students, parents and teachers. She also threw light on the importance of gaining, sharing and implementing the knowledge. Apart from this, she also congratulated and appreciated the winners for making the school proud. The competitions were unique and aimed at importance of the extra skills that the children are encompassing.
 
The President of Vasal Educational Society, Shri K K Vasal, The Chairman Mr. Sanjeev Kumar Vasal, The Director Mrs. Ena Vasal, and The CEO Mr. Raghav Vasal lauded the zealous participation of the winners. They emphasized on the significance of learning in a student's life. Further, they motivated the students to be a part of such competitions and keep themselves illuminated with knowledge and awareness. The students were elated to be a part of such an enjoyable competitions.