International Business School of Washington (IBSW) partners with LPU
Collaboration is to initially benefit LPU fashion students through an international academic & professional exposure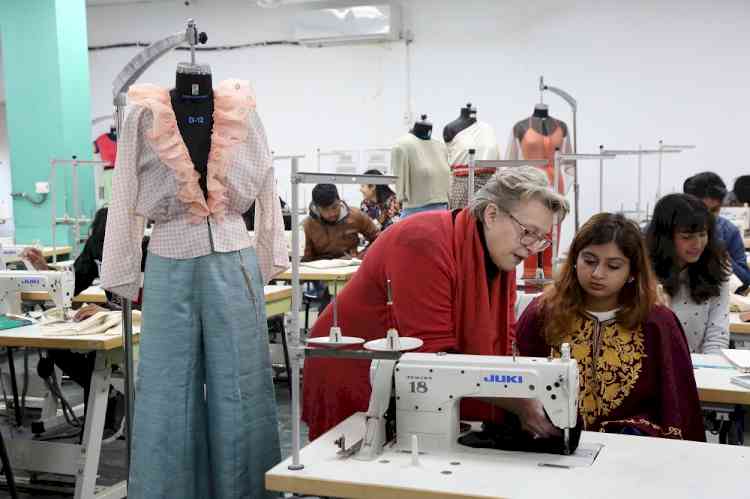 LPU students learning the practical concepts in a fashion department lab.
Jalandhar: The international educational consortium headquartered in the USA-International Business School of Washington (IBSW) has partnered with Lovely Professional University (LPU). With this prestigious collaboration, LPU is set to offer Indian students an opportunity to study in more than 5 campuses of IBSW in USA and Europe.
Additional Director Mr Aman Mittal at LPU's Division of International Affairs conveys: "Having an initial focus on 'Fashion & Design' before expanding to more subject matters, this association will provide Indian students of all backgrounds with significant opportunities. This academic package has carefully been curated by IBSW and LPU with the aim of maximizing students' career opportunities. Thus, at the end of each graduating student promotion, it is to introduce highly trained and skilled talent into the international workforce."
In fact, the flexibility that allows the IBSW & LPU joint programme to adapt to students' needs also provides a variety of other available benefits to the students. Dean at LPU's School of Fashion Design Bhaskar Mitra elaborates: "These benefits include the acquisition of dual degrees; international exposure through the 'Mobility Programme' by reaching locations such as Dubai, Paris, Lyon, Montpellier, Washington D.C.s; participation in international fashion shows in the top countries of fashion industry-France and Italy; chances to meet fashion industry superstars and stalwarts; and, above all, framing of own degree path by combining an unlimited number of options available through this collaboration."
Considered as one of India's largest national universities, LPU has one of the best design colleges in India and Punjab at its campus. It offers its students cutting-edge labs and equipment to simulate the industry environment with practical exposure to the fashion industry, interior and furniture and animation and multimedia design. LPU School of Fashion offers comprehensive course programmes to its students to boost their career prospects with unmatchable learning environment & record placements at a high-tech campus with world class facilities. It creates skilled world-class professionals that are preferably recruitable much before they graduate. Premier brands and companies including H&M, Raymond's, Tommy Hilfiger, Madame, Coach, Genesis, Michael Kors, Armani Exchange, Diesel, Kate Spade, Steve Madden and more visit LPU during coveted 'Campus Placements'.