Interactive session cum live demonstration of portrait making in clay
Resource Person interacts with students and talked about major difference between painting and sculpting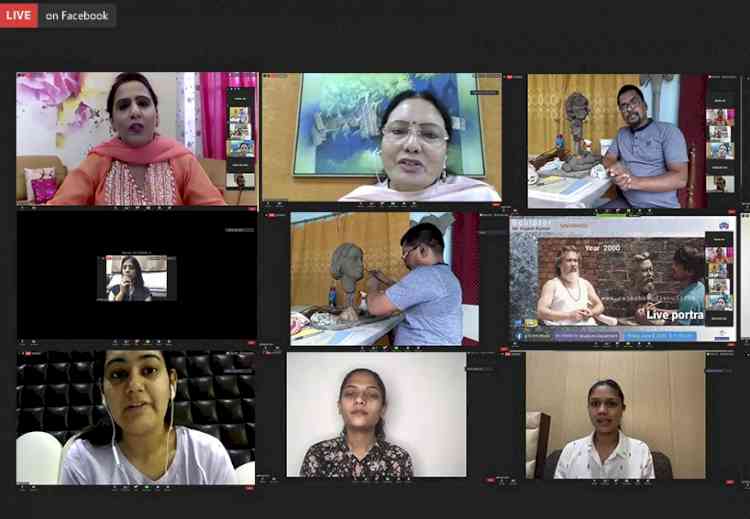 Jalandhar: The Department of Sculpture of Apeejay College of Fine Arts, Jalandhar organized an Interactive Session cum Live Demonstration of Portrait Making in Clay where the recently nominated for National Award by Ministry of HRD, Govt. of India- Mr. Rajesh Kumar occurred as a Resource Person of the day.
He interacted with students and talked about the major difference between Painting and Sculpting while narrating the art of making chiseled sculptors with minutest details. He also shared with the elite gathering that he had made 350 sculptors in total. Students too came up with various questions as what are the best tools and material for making a more stable Sculptor, Difference between Head Study and Portrait Study, Portrait and Portraiture etc.
He answered satisfactorily to students' questions. He put forth that the sculptors made with metal, stones and terracotta are more stable and talking of tools he added that first of all, hands should be used in perfect sense as a tool and other than that few tools could be made at home as well using bamboo and wood which are available in the market a well.
Telling the difference between Portrait and Portraiture, he told students that when the exact replica of a person is made that is called Portrait and on the other hand when the artist make few changes as per his vision and art that is known as Portraiture.
Principal Dr. Sucharita Sharma too expressed her pleasure to have such an extraordinary person amongst them. She also congratulated him for being nominated for National level award. She added it is indeed honor for our students that they will be learning this art form such a cultivated and experienced artist who with his dedication and hard work has made his name in the field. She also asked him about how choosing Sculpture as one of the major subjects can benefit students and how much beneficial it can be for them in shaping their career. To this Mr. Sharma answered that in this Lockdown many people have lost their jobs but the people who had skills and knew the art; they have successfully survived this period by their hard work and dedication. In the terms of career in Sculpting, he added consistent hard work and dedication is required to become successful in this field.
Principal Dr. Sucharita Sharma congratulated the Department of Sculpture for successfully organizing this informative Webinar.